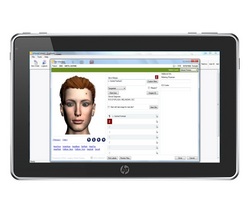 Both ELLKAY and HP are excited about the benefits this solution will bring to the medical industry. It will benefit the physician, laboratory, even the patients.
Teaneck, NJ (PRWEB) February 21, 2011
ELLKAY is announcing that its LKDermConnect solution for dermatologists is now available on the newly released HP Slate 500 platform. This new technological synergy will be introduced at the HIMSS11 Annual Conference & Exhibition in Orlando, FL, February 20-24, 2011.
HP's release of the new Slate 500 tablet on October 22, 2010 opened the door for Windows 7 applications for businesses. A laboratory now can offer ELLKAY's requisition solutions to dermatologists, who may utilize the many innovative features of the HP Slate 500. Dermatologists may use LKDermConnect's 'point-and-click anatomical body imaging' software utilizing the touch digitizing layer that works both with fingers and pen to identify biopsy sites, enter hand-written diagnoses, or take photo snapshots using the Slate's integrated high-resolution camera to store the images and photographs either locally on the tablet, or in a Web-based integrated repository accessed via a wireless connection (WiFi/WLAN).
This synergy between ELLKAY's applications and HP Slate's technology may be the ground-breaking solution dermatologists were waiting for to have a significant increase in their productivity. Dermatologists who enthusiastically embraced the PC-based LKDermConnect would love the Slate version of the same ELLKAY product.
Utilizing the feature-rich LKDermConnect, a dermatologist creates a new requisition for a patient, transparently retrieving the patient's demographic and insurance data from the physician's practice management system (PMS). This eliminates the need for manual transcribing; thus, limits potential errors. Selecting a biopsy site is as easy as pointing and clicking a specific point on the body image. Each requisition allows for as many biopsy sites as necessary. The physician selects diagnoses or "rule outs" and related treatments from pre-configured lists, and can customize those lists or add data manually. Selected site images and site photographs are stored in the system and are easily viewed along with a diagnosis log. Among other features, the system supports multi-physician clinics, and has the ability to configure rooms and their related requisition and label printers. A physician can, thereby, print requisitions in the room where s/he treats the patient. The system can also be configured and branded for specific laboratories, customized requisition forms, and specimen labels.
LKDermConnect is an integrated combination of two software components: LKPrint, a Windows-based requisition-generating component that retrieves patient information from the dermatologist's practice management system (PMS), and a browser based component for managing the physician's interactive database log with history of all recorded requisitions.
To learn more about the HP Slate 500 Tablet PC, feel free to watch a product demonstration or call HP's SMB division at 1-866-625-0242. It is also available online in HP's SMB WebStore.
About ELLKAY, LLC
ELLKAY is a nationwide leader in connectivity solutions with a mission to provide preeminent connectivity solutions and services to the healthcare industry. ELLKAY offers solutions and services to diagnostics laboratories, to laboratory outreach system vendors, and to vendors of Practice Management Systems (PMS), Electronic Medical Record (EMR) systems and to their medical practice clients throughout the United States.
ELLKAY uses a differentiation focus strategy for achieving competitive advantage by providing connectivity solutions to medical laboratories, and by forming strategic alliances with laboratories and other software companies. Laboratory solutions add value to laboratories, and strategic alliances add value to both ELLKAY and the partnering companies. ELLKAY's comprehensive knowledge of connectivity in the healthcare industry with over 20 years of accumulated experience makes it a leading provider of integrated healthcare services.
To learn more about ELLKAY as well as the products and services they offer, visit them online at:
http://www.ELLKAY.com .
###