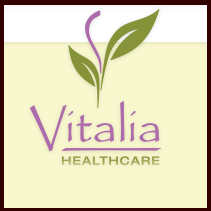 Get Healthy. Stay Healthy
Vancouver, BC (PRWEB) March 29, 2013
There comes a time when the human body starts to show that it needs a break from the poor diet and unsuitable environments it's been subjected to. When that sluggish feeling starts to hit and it suddenly takes twice as long for to get anything done, it's time to turn to a professional service that can make it as good as new. That's where the services of Vitalia Healthcare come in. With treatment options ranging from whole body cleansings to weight loss therapy, Vitalia is a leading source for natural health care; and with the launch of its brand new website, http://www.vitaliahealthcare.ca, dealing with Vitalia Healthcare has never been easier. The new design not only makes researching Vitalia infinitely easier, the professional look provides the service with a trustworthy look.
Vitalia has upgraded its online components to ensure that future clients can fully research treatment methods, the team they'll be dealing with, and the latest news in natural healthcare while also providing current patients complete ease with online appointment scheduling. Online appointment scheduling allows patients to easily request a desired time slot while also providing the chance to effectively and thoroughly explain the reason for the appointment. Online scheduling lets patients skip the need to call in and wait on hold. Rather, after the online form has been filled out, a member of Vitalia's scheduling staff will contact each patient via either phone or e-mail. In an age of a fast moving society, this convenience is oftentimes overlooked, but is essential to a business' success. On top of online scheduling, Vitalia's new web design also allows new patients the ability to download all "new patient" forms prior to their appointment.
With Vitalia's new website, everything about the natural health care provider is on the table. Seeing the central team prior to arrival allows new patients the ability to research who they will be working with, allowing them the opportunity to get comfortable with the staff prior to their appointment. Treatment options are individually listed, ensuring that everyone can decide what service and treatment works ideally for them. From IV cleansings to family planning, Vitalia puts everything on the table without hesitation within their newly launched site.
Vitalia Healthcare is the leading provider of all natural health care, providing intravenous cleansings to eradicate free radicals within the human body, permanent weight loss solutions, Autism therapy, chelation therapy, and full body analysis to show patients their problem areas. On top of these treatment options, the staff at Vitalia Healthcare is also certified for nutritional and dietary counseling and personal training. Patients looking to jump aboard the family train can turn to Vitalia's family planning, which includes prenatal therapy, acupuncture treatments, breast feeding support, and other preconception care options. Once born, Vitalia offers pediatric services to encourage all natural healthcare.
One of Vitalia's leading treatments is known plainly as Vegas I.V. Anyone looking to spend time in the party-centric city of Las Vegas will want to seek out this cleansing option, which guarantees that both before and after the trip, all participants will feel refreshed. By eradicating toxins and boosting the body's ability to fight off fatigue through the introduction of Vitamin C and other nutrients, Vegas I.V. ensures that any trip to Las Vegas is not wasted on hangovers and jet lag. Receivers of Vegas I.V. will also find themselves far more energized after a night of partying and inhaling the city's abundance of smoke.
Vitalia Healthcare encourages a healthy lifestyle to one and all, and its newly launched web design ensures that all walks of life can get a sense for the services they offer, who will be providing the treatment, and just how simple it is to receive all natural health care. From online appointment scheduling to a regularly updated blog that provides news in healthcare and basic tips to encourage a completely healthy lifestyle, Vitaliahealthcare.ca is the perfect hub for all current patients of Vitalia and any parties that may be interested in future services.