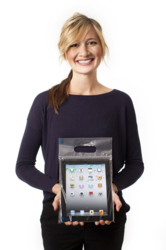 Healthcare Mobile LLC Launches Disposable Cleansleev Protective Covers for Mobile Devices
Philadelphia (PRWEB) May 23, 2013
As the usage of portable personal devices increases, their very mobility and touch interfaces expose them to various bacteria and viruses. The Cleansleev line of protective covers are designed to fill the void for protective solutions in the healthcare space and extend the availability to other common public areas where such devices are shared by multiple users including hotels, classrooms, military installments, nursing homes and other public areas. Additionally, the water resistant feature makes Cleansleev ideal for personal use for travelers and beach goers.
Taking a page from infection control specialists who have advocated for "single use devices" in a medical setting, Healthcare Mobile has now introduced disposable protective covers that preserve the touch sensitivity of devices. The first generation of sleeves is available for Apple's iPad, iPad Mini, and iPhone 4 & 5, and the company will soon introduce versions for other popular devices, such as the Samsung Galaxy S4®.
The intention is to offer an economical, easy-to-use solution, for medical professionals, who have come to rely on these devices to interface with electronic medical record systems, diagnostic images, patient education and communication tools. The use of the Cleansleev may now become part of a daily routine in the medical offices and other public areas where germs and viruses can easily be spread.
"My partners and I have worked for years in the healthcare IT and medical diagnostic space," said Jesus Janne, a partner at Healthcare Mobile. "While designing a new, mHealth based screening system, we had a simple thought: while so many hospital IT managers' are concerned about computer viruses, no one seemed focused on actual germs and viruses! We had seen reports in the medical literature attesting to the fact that our smartphones often have more staphylococcus than a toilet seat. We decided to do something about this."
The first generation of the Cleansleev line is now available at http://www.cleansleev.com and includes a convenient carrying handle. Healthcare Mobile will soon introduce a second version made from renewable sources, which will be more environmentally friendly after use, and will be able to accommodate different sizes of other commonly used smartphones and tablets.
To learn more about Cleansleev and its availability, including bulk purchases, you can visit the following resources:
Website: http://www.cleansleev.com
Phone: (201) 744-3364
E-mail: info(at)healthcaremobile(dot)com
Facebook: facebook.com/HealthcareMobile
Twitter: twitter.com/hCareMobile
Linkedin: linkedin.com/company/healthcare-mobile
YouTube: youtube.com/cleansleev