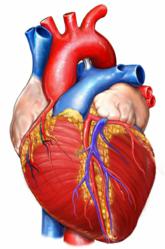 The interactive animations in iHeart Touch help bridge the knowledge gap between patient and provider.
Atlanta, GA (PRWEB) March 28, 2013
Nucleus Medical Media's iHeart Touch app was recently honored as a finalist in the 2012 International Science & Engineering Visualization Challenge—in the Games & Apps category—presented by the National Science Foundation (NSF) and the journal Science.
According to the official NSF website, the annual, international competition, which is in its 11th year in 2013, recognizes "the best examples of projects that bring scientific information to light." With over 200 entries from 18 countries, the competition judges categories including video, illustration, and games and apps. The games and apps competition collects entries that "enable players of all ages to interact, have fun, and learn about science, technology, engineering and/or mathematics," according to the NSF site.
iHeart Touch is a point of care health literacy app for the iPad that helps patients and their families learn about the cause and treatments for coronary artery disease (CAD), the leading cause of death in the United States. As a finalist, the project leads were also recognized by the NSF—Mary Beth Clough, Medical Illustrator and Writer; Thomas Brown, Chief Creative Officer; Fred Stroud, Mobile Development Lead; and Ron Collins, CEO and Cofounder.
In a review of the app, Dr. Jeff Taylor of the Robert Wood Johnson University Hospital commented that the animations in the iHeart Touch app are a key feature in helping patient understand what causes conditions and how to treat them: "I believe animations are much easier for patients to understand than still images printed on fliers or even the 'canned' printouts from my EMR."
Nucleus Medical Media CEO and Cofounder Ron Collins says iHeart Touch can help raise health literacy in the doctor's office or at home. "The interactive animations in iHeart Touch help bridge the knowledge gap between patient and provider."
Click here to download iHeart Touch for free from the iTunes store. Nucleus Medical Media also creates custom medical animations and apps for hospitals, pharmaceutical companies, and more.
For further comment, contact Ron Collins, CEO and Cofounder of Nucleus Medical Media at rcollins(at)nucleusinc(dot)com or (800) 333-0753.
Founded in 1997, Nucleus Medical Media, Inc. is an award-winning creator of medical illustrations, medical animations, and interactive multimedia for the publishing, legal, healthcare, entertainment, pharmaceutical, medical device, and academic markets. Nucleus's clients and partners include WebMD, McGraw-Hill, Dr. Oz, EBSCO Publishing, and thousands of other businesses in new and traditional media. Nucleus employs the world's largest team of graduate-degreed medical illustrators, and has a Medical Review Board with more than 125 physicians and nurses. For more information on iHeart Touch, visit http://www.ihearttouch.com