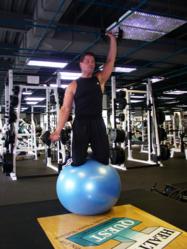 "Remember, it's what you learn after you think you know everything that really counts," Tierno said.
Flemington, NJ (PRWEB) July 12, 2012
The 2012 Summer Olympics kick off on July 27th in London with competitions continuing until August 12th. Watching competitions like gymnastics, swimming, weight lifting, and cycling among many others can be inspiring. This year, take inspiration from the Summer 2012 games and set new personal training goals.
Tony Tierno, Director of Fitness & Human Performance at HealthQuest of Hunterdon (http://www.healthquest-fitness.com), offers tips to start training like an Olympian:
Define workout goals – Some workout goals are for short-term success while others are more long-term. Understanding what one's body best responds to makes the finish line more in reach.
Break it down – Reaching a goal takes times. Map out a plan to ensure reaching defined goals are attainable. Remember, the way to the top of the ladder is one step at a time.
Don't go at it alone – Olympians train with fellow competitors and enlist help from some of the greatest trainers. When embarking on a new training goal, consider buddying up with someone with similar goals or hiring a trainer to give a helpful boost and safety instruction. If hiring professional help, make sure to choose a trainer that has experience in training athletes in Sports Specific Training.
Dedicate time in your schedule – Consistency is key in training towards a fitness goal. Use a calendar to plan out the days and times for training before the week starts. Overtraining can really inhibit progress; so make sure to allow a rest phase for the body to rebuild. Also, set up training times that support the ability to stay on a progression mode.
Don't forget to stretch – Reduce the chance of injury and improve flexibility by dynamic stretching before a workout and static stretching after it.
A smart diet – Proper sports nutrition is 80% of a fitness goal's success. Olympic athletes pay just as much attention to what they put in their mouths as what they put their body through.
"Remember, it's what one learns after they think they know everything that really counts," Tierno said.
For more information about HealthQuest of Hunterdon, visit http://www.healthquest-fitness.com.
###
About HealthQuest
HealthQuest is a complete Family Fitness, Wellness, & Athletic Facility with quality and value you can feel great about — whether you want to maintain your general health, nurture your family's fitness or develop your competitive edge. HealthQuest is set on a 38-acre campus with 104,000 square feet of exercise space.
Founded in 2001, HealthQuest has established and maintained a position at the forefront of Central Jersey area health clubs. Conveniently located in the heart of Hunterdon County, HealthQuest provides a comfortable atmosphere where our outstanding staff is committed to helping you acquire and maintain a healthy lifestyle. Our spacious, highly maintained facility and innovative programming demonstrates that HealthQuest is a club with you and your family in mind.