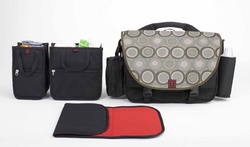 Wee Generation's eco-friendly diaper bag is an important development in consumer goods
BURLINGTON, Vt. (PRWEB) June 11, 2008
See and purchase the much-anticipated diaper bag, in development since last summer, and appropriate for both mom and dad, at http://www.weegeneration.com. The bag is available for $200 and 100 percent of profits benefit Healthy Child Healthy World.
"Wee Generation's eco-friendly diaper bag is an important development in consumer goods," said William McDonough, green architect and environmental designer. "The initiative sets the pace for an environmentally-intelligent industry and will continue to change how goods are created and repurposed going forward."
"The arrival of a baby brings many new opportunities to seek cleaner, greener and safer lifestyle options," said Christopher Gavigan, CEO and Executive Director of Healthy Child Healthy World. "Wee Generation wants to bring children's well-being and environmental health to the forefront in easy, attainable ways for anyone overwhelmed with the daily demands of parenting. This environmentally-friendly bag is one effortless way to be a conscientious parent and keep your children's health and future in mind."
About The Wee Generation Diaper Bag
The Cradle to Cradle-certifiable diaper bag is currently undergoing a rigorous certification process and was designed with a broad, thoughtful approach to sustainability. The Wee Generation diaper bags are highly functional, durable and manufactured responsibly. To influence the design process, current and future parents weighed in at http://www.weegeneration.com to share their own stories and insights on baby bag usage.
Wee Generation Diaper Bag Features
First 500 bags come with Seventh Generation baby products; Naturally Clean, the Seventh Generation Guide to Safe and Healthy Non-Toxic Cleaning, a book by Jeffrey Hollender, chief inspired protagonist at Seventh Generation; and Healthy Child Healthy World literature to inspire a living, healthy home in five easy steps PVC-free exterior fabric is Cradle-to-Cradle certified which means it is made from 100% post-consumer recycled water bottles PVC-free waterproof, wipe-clean liner Removable insulated feeding tote, changing tote and plush changing pad Detachable insulated bottle holder and quick-access zip pouch Large rear zip organizer pocket for on-the-go convenience Dual front zip compartments with key tether Velcro and magnetic closure as well as dual buckles Deluxe adjustable comfort strap with quick release cam buckle Stroller attachment straps Available in four patterns: Soda Pop Silver Weed, Soda Pop Sage, Soda Pop Black Current, Bottle Bank Thistle For more information about Seventh Generation, visit http://www.seventhgeneration.com
For more information about Healthy Child Healthy World, visit http://www.healthychild.org
For more information about William McDonough visit http://www.mcdonough.com
For more information about IDEO, visit http://www.ideo.com
For more information about Rickshaw Bagworks, visit http://www.rickshawbags.com
MULTIMEDIA GALLERY http://www.businesswire.com/cgi-bin/mmg.cgi?eid=5706868