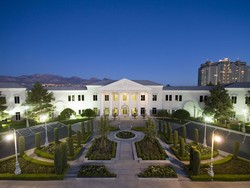 "Cenegenics Living Online is ideal because we are a busy society, tied to technology, and this is a way to truly bring our program into the day-to-day lives of our patients.
Las Vegas, NV (PRWEB) March 3, 2010
Cenegenics® Medical Institute, global age management medicine leader, just launched their new site, Cenegenics Living Online, to better boost patient success with exercise/nutrition goals. Following a two-month pilot study and several months of harnessing the system's broader capabilities, the site signals the next step in Cenegenics' famed proactive medical approach for optimized health, youthful aging and prevention of age-related disease.
Cenegenics Living Online creates a virtual window where patients can interact with their age-management physician and nutrition/exercise counselor on a regular basis. That interaction paves the way for up-to-the-minute recommendations that will maximize a patient's results and forge a healthier lifestyle. With the online wellness planning system, patients spend less than ten minutes daily logging their nutritional and exercise activities, which helps the Cenegenics team identify red flags, areas needing improvement and negative behavioral issues as well as reinforce positive behaviors.
"I believe we're the only age management medicine practice in the country using this type of an online tracking program. Cenegenics Living Online is ideal because we are a busy society, tied to technology, and this is a way to truly bring our program into the day-to-day lives of our patients," Mickey J. Barber, MD, the CEO/CMO of Cenegenics Carolinas, said.
Barber says Cenegenics Living Online is really an accountability program. Once a patient completes a comprehensive Executive Health Evaluation, that information is uploaded to the system, along with the age-management team's recommendations for nutrition, exercise and supplements.
The beauty of the new system is that Cenegenics' physicians and nutrition/exercise counselors are notified when the patient starts to get off track so the team can respond with emails and text alerts, helping the patient stay more compliant.
A wide-scope of online features also contribute to that, from grocery list planning and recipe/food recommendations to daily dairy, exercise demonstrations, personalized fitness logs, progress management, sleep tracking and much more.
For more information about Cenegenics, please visit http://www.cenegenics.com. Register for quick access to the informative Guide to Healthy Aging, Executive Summary and NY Times article excerpt. To schedule an interview, please contact Ann Castro, Cenegenics Director of Media Relations: 702.953.1588.
About Cenegenics
Cenegenics® Medical Institute, recognized leading authority in age management medicine, has centers in Las Vegas, Nevada; Charleston, South Carolina; Boca Raton, Florida; Dallas/Fort Worth, Texas; Atlanta, Georgia; Chicago, Illinois; Los Angeles, California; Philadelphia, Pennsylvania; Washington, DC. Additional centers are scheduled to open in other major metropolitan areas in the near future. With an established presence in the medical community, Cenegenics uses a proactive approach based on solid science and comprehensive evaluation. Their established protocols have been recognized as the next generation of medical science, capturing global attention. Cenegenics offers CME-accredited physician training and certification opportunities in age management medicine via the nonprofit Cenegenics Education and Research Foundation (CERF). Headquartered in Las Vegas, Cenegenics serves more than 20,000 patients worldwide--2,000 are physicians and their families.
# # #