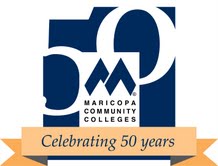 Over the past decade, we have worked hard to create a culture of wellness. --Nikki Jackson, Vice Chancellor of Human Resources
Tempe, AZ (PRWEB) March 31, 2013
The Maricopa Community Colleges have been named one of the Valley's healthiest employers by the Phoenix Business Journal. The announcement was made at the Journal's annual event earlier today.
"Working at Maricopa Community Colleges can be good for your health," said Nikki Jackson, Vice Chancellor of Human Resources. "Over the past decade, we have worked hard to create a culture of wellness. It has proven positive impacts on employee health and productivity, can be done effectively and with little expense, and it's the right thing to do. We're proud to receive this award, and congratulate all employers who invest in their employees' well-being."
Maricopa Community Colleges' Culture of Wellness
· All Maricopa Community Colleges' properties are 100% tobacco-free.
· Those who complete a Health Risk Assessment (HRA) and who are tobacco-free can receive a $600 in wellness incentive dollars, which can be used towards health care premiums.
· Employees have access to on-site tobacco quit assistance, resources, and can participate in a "buddy" program, which offers support to those who want to quit.
· In 2012, more than 400 employees received a comprehensive set of cardiovascular and abdominal screenings; the tests were offered to all benefit-eligible employees.
Maricopa Community Colleges also offer healthy food options in dining services, a flexible work schedule policy, wellness programs during work hours, access to well-lit, well-marked stairwells and fitness trails, bicycle storage racks, shower/change facilities, and a 24-7
nurse hotline.
###
About Maricopa Community Colleges
The Maricopa Community College system is one of the largest in the nation. We are 10 regionally accredited institutions: Chandler-Gilbert, Estrella Mountain (and SouthWest Skill Center), GateWay (and Maricopa Skill Center), Glendale, Mesa, Paradise Valley, Phoenix, Rio Salado, Scottsdale and South Mountain; the system also includes satellite campuses and business/industry, technical and customized training institutes Valley-wide.