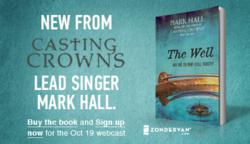 Nashville, Tenn. (PRWEB) September 21, 2011
Mark Hall, front man of the RIAA Platinum selling, Dove, AMA and GRAMMY ® Award-winning band Casting Crowns, will be leading an hour-long, worldwide web launch event through HearitFirst.com on Wednesday, October 19 at 7pm EST. The event is presented by Zondervan, publisher of Hall's latest book The Well: Why Are So Many Still Thirsty?, and will include the sharing of topics from the book and songs from Casting Crowns' new album Come To The Well. The event will happen the day after the album's release, and will take place in front of a live audience. Viewers can sign up for the free broadcast at http://www.HearitFirst.com.
With co-writer and fellow pastor Tim Luke (author of books such as Your Own Jesus), Hall uses the powerful story of the woman at the well and her encounter with Jesus to help readers understand why life often seems so unsatisfying in his newest book The Well. What many believers consider wells that sustain them—like success, talent, control, and favor—are really just holes that keep them from relying upon Jesus and the abundant, refreshing life He offers.
The Well ties into the release of Casting Crowns' newest album releasing this fall, Come To The Well. Additionally, the "Come To The Well" tour will launch later this month, and hit 40 markets nationwide this fall and 40 markets in spring 2012.
The Well hit retailers this month, where it is being featured at $14.99, ISBN 0310293332, 5.5 x 8.5.
About Casting Crowns: All of Atlanta-based Casting Crowns' projects are RIAA certified, with a tally of three RIAA Platinum Albums, two RIAA Platinum DVDs, two RIAA Gold Albums and a Gold DVD, holding position as Billboard's top-selling act in Christian music since 2007. Despite an unprecedented six-year career with Casting Crowns, the seven band members remain active in student ministry in the Atlanta area and tour part-time around their local church duties. Serving his 18th year in youth ministry, lead singer/songwriter Mark Hall is the student pastor at Eagle's Landing First Baptist Church in Atlanta. As a testament to the band's impact, Casting Crowns performed for a second time in North Korea in April 2009, in partnership with Global Resource Services, as the band continues to forge invaluable relationships with the people in the D.P.R.K.
About HearitFirst.com: HearItFirst.com, a division of Spinnaker Media Fund I, is the best in class, definitive online destination for the Christian music and entertainment fan. Filled with rich content covering the entire Christian music and entertainment industry, HIF boasts a membership of over 264,000 registered users, and hosts an array of features on the site, including exclusive videos, free mp3 downloads, and full album streams. HearItFirst.com is THE destination for Christian music enthusiasts to enjoy the newest and most exclusive content and information about their favorite Christian artists.
http://www.castingcrowns.com
http://www.facebook.com/castingcrowns
http://www.twitter.com/markhallcc
For More Information:
Velvet Kelm or Courtney Hyder
the media collective
e: velvet(at)themcollective(dot)com or courtney(at)themcollective(dot)com
p: 615.591.7989
http://www.themcollective.com
twitter: @themcollective
###