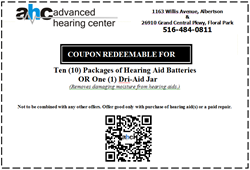 New York, NY (PRWEB) June 03, 2013
As all wearers of hearing aids already know, along with your aids, you will need certain accessories to keep your hearing aids running in optimal condition. Two of the more essential accessories are batteries and a drying jar. For a limited time, Advanced Hearing Center is offering 10 free hearing aid batteries or a complimentary dri-aid jar with the purchase of new hearing aids or a paid repair. It is open to new and existing patients at any of the three Advanced Hearing Center locations in Albertson, Floral Park or on the corner of 65th Street and 3rd Avenue in NYC. The special offer can be printed from the company's website at http://audiologistny.com/free-online-offer and should be redeemed in person. Appointments are suggested, although the practice also offers walk-in hours which are posted on the website.
Advanced Hearing Center is pleased to help reduce the cost of hearing aid accessories for its patients with these complimentary items. More information about Advanced Hearing Center and how to obtain hearing aids in NYC is available on the company's website, YouTube channel and Facebook page.
About Dr. Amy Sapodin, Au.D.
Amy Sapodin, Au.D, earned her Masters Degree in Audiology from Queens College, City University of New York, Flushing, NY and her Doctorate Degree in Audiology from the Arizona School of Health Sciences, Mesa, AZ in 2002. Dr. Sapodin is a member of the American Academy of Audiology, the American Hearing Aid Association and the American Speech and Hearing Association. Her professional certificates include a NY State Audiology License, NY State Hearing Aid Dispensing License and the Certificate of Clinical Competence in Audiology.
About Advanced Hearing Center:
Advanced Hearing Center is co-owned by Dr. Amy Sapodin and Dr. Alison Hoffmann, both Board Certified and licensed audiologists. They have been serving the hearing impaired in Nassau and Queens for over twenty years and have received several awards including the Nassau County Executive Platinum Award for their dedication to the hearing impaired.
The Audiologists and Staff at Advanced Hearing Center are proud to provide the very best in comprehensive and professional hearing healthcare services. In addition to hearing tests and hearing aid fittings, the practice offers regular workshops, seminars and open houses at their three locations. They also regularly send guest speakers off-site to educate the public about hearing loss and hearing aid technology and offer walk-in hours for patients that just need a quick repair or adjustment. Advanced Hearing Center has three locations in New York City (NYC), Alberston NY and Floral Park NY.
Contact:
Dr. Amy Sapodin
http://audiologistny.com/
Advanced Hearing Center
201 East 65th Street, 1st Floor
New York, NY 10065
(516) 858-4884
Advanced Hearing Center
1163 Willis Avenue
Albertson, NY 11507
(516) 504-3151
Advanced Hearing Center
26910 Grand Central Pkwy, Arcade 5, Building 3
Floral Park, NY 11005
(516) 629-5229