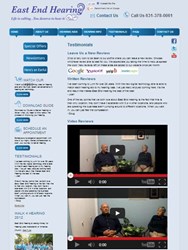 I've just really enjoyed coming here. It's the end result that makes East End Hearing the best of the best
Long Island, NY (PRWEB) April 18, 2013
A brand new section has been added to the website of East End Hearing to showcase hearing aid reviews and testimonials from all over Long Island. The brand new section on the website is a place to share the hearing aid, hearing loss, and tinnitus stories of past and current patients of the practice. Lynn O'Bray-Donohue is delighted to offer this new enhancement observing that it is very helpful for people with hearing difficulties to be able to see themselves in the stories of others. Many Americans suffer from hearing problems and it is important for them to understand that they aren't alone. Reading the stories of other Long Islanders on the new testimonials page is one step toward building a sense of community among those with hearing loss and encouraging them to come in for a complete hearing evaluation.
Visitors reading the stories on the website are reminded to not try to diagnose themselves as there are many different reasons for hearing loss. Only a qualified audiologist can properly evaluate symptoms such as ear pain, ringing in the ears or hearing loss. A physical exam and hearing test are the first step in understanding the source of the hearing loss. The solutions that have worked for the other patients featured on our testimonials and Long Island hearing aids reviews page, will not be appropriate in all cases.
About Lynn O'Bray-Donohue
Dr. Lynn O'Bray-Donohue is a N.Y.S Licensed Audiologist and Hearing Aid Dispenser, and has been providing Audiologic Care at East End Hearing since 1987. She has been co-owner of East End Hearing in the Long Island area, with her partner Dr. Michael Qualley, since 1991. Dr. O'Bray-Donohue was awarded her Masters degree in Audiology by Adelphi University in Garden City, N.Y. and received her Doctor of Audiology degree from A.T. Still University-Arizona School of Health Sciences. She is a Fellow of the American Academy of Audiology and of The Academy of Doctoring Audiologists.
About East End Hearing:
East End Hearing was founded over 25 years ago to help members of the community get more from a local hearing care provider in the Long Island NY area. East End Hearing continues the tradition of better hearing through education, technology, and customer service. Collectively, the staff at East End Hearing ensures that patients will receive unrivaled, professional, and personalized care tailored to each person's individual needs. Patients will always be greeted with a familiar voice or face, ready to take care of concerns in a timely fashion. As convenience is paramount to quality care, the company is fully-staffed with daily, evening, and Saturday hours.
Contact:
Dr. Lynn O'Bray-Donahue
http://www.eastendhearing.com/
East End Hearing
4747 Nesconset Hwy, Ste 8
Port Jefferson Station, NY 11776
(631) 378-0061