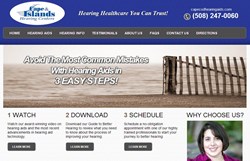 Cape & Islands Hearing Centers continues the tradition of better hearing through education, technology, and customer service.
Orleans, MA (PRWEB) October 18, 2012
Cape & Islands Hearing Centers, the leading provider of hearing aids in Cape Cod is pleased to announce the launch of its new website at capecodhearingaids.com. The website features extensive new content, including an award winning video, large print, and easier navigation that allows customers to quickly find the hearing aid information they are looking for or make an appointment.
The central feature of the new website is the in-depth video tutorial sharing advances in hearing aid technology. The video runs a full twenty-one minutes and has already received several awards. After watching the video, visitors to capecodhearingaids.com can download the free Guide to Better Hearing and schedule an appointment right from the home page. The website redesign demonstrates Cape & Islands Hearing Centers' continued efforts to help its patients throughout the process of purchasing a hearing aid from the initial research to the final fitting.
As part of the website redesign, Cape & Islands Hearing Centers has launched a YouTube channel to distribute educational videos about hearing aids. In addition to publishing the videos on YouTube, the videos are also embedded in the main website giving consumers two opportunities to view them. The team at Cape & Islands Hearing Centers wants patients to have as much information as possible before making an appointment and encourages those considering purchasing hearing aids in Cape Cod to watch the full video series.
Cape & Islands Hearing Center is owned by Dr. Nancy Duncan. Dr. Duncan earned her Bachelor of Science (B.S) degree in Communication Disorders and Psychology from Worcester State College, her Master of Science (M.S.) degree in Audiology from the University of Arkansas for Medical Sciences and her Clinical Doctorate in Audiology at the Pennsylvania College of Optometry (now Salus University). Prior to owning her own practice, Dr. Duncan worked for several private Audiology practices in Arkansas, Massachusetts and Rhode Island before opening Duncan Hearing Healthcare in Fall River Massachusetts in 2003. Dr. Duncan purchased Cape & Islands Hearing Center in Orleans, MA in June 2011 to extend her services and expertise to the lower Cape Cod region.
The entire staff at Cape & Islands Hearing Centers is extremely enthusiastic about the role the new website will play in helping consumers in the Cape Cod area learn more about hearing loss, modern hearing aid technology and how to shop for a new hearing aid.
To see the new website design, and to learn more about Cape & Islands Hearing Centers, visit capecodhearingaids.com
Contact:
Cape & Islands Hearing Centers Inc.
56 Main Street
Orleans, MA 02653
(508) 247-0060
http://capecodhearingaids.com