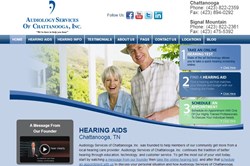 Audiology Services of Chattanooga, Inc. was founded to help members of our community get more from a local hearing care provider.
Chattanooga, TN (PRWEB) November 10, 2012
Acclaimed clinic for advanced hearing aids in Chattanooga, Audiology Services of Chattanooga, has just hit the headlines by launching their new website. The remodeled website has been launched to provide detailed information on the services offered by the clinic. New 'Blog' and 'Hearing Info' sections have been included to offer useful resources pertaining to hearing related problems and their remedies. The wide spectrum of services available at the clinic includes hearing aid evaluations, hearing testing, hearing aid repairs, and hearing aid sales. Offering professional hearing care within an affordable price range has made them one of the most trusted names in and around Chattanooga for hearing loss information, digital hearing aids and hearing protection.
Hearing aids are the most common remedy for hearing related difficulties. However, choosing the right kind of hearing aid is no easy job. The first step in finding the perfect hearing aid is a complete hearing test or audiological evaluation. The lifestyle and specific requirements of the patients are also taken into account. On the new Audiology Services of Chattanooga website, patients can also be able to take online hearing tests and browse through hearing aid styles on their own.
Unlike many other clinics in this region, Audiology Services of Chattanooga always discusses the cost involved in the process in advance. This is extremely important because most hearing aids are not covered by insurance. After the evaluation process, consumers are provided options to choose their hearing aids. The clinic also offers state of the art professional care during the entire process of fitting the hearing aid and ensuring patient satisfaction.
Over the years, many people with hearing related difficulties have used Audiology Services of Chattanooga to solve their hearing concerns. They have fitted many hundreds of hearing aids in Chattanooga. "If you have a loss of hearing, you don't need high-pressure. You need guidance. Having a hearing problem can be frightening, but having the proper solutions is so reassuring. Visit our new website to find out all about your hearing problems and how we can help you", says Dr. Kenneth C. Parker of Audiology Services of Chattanooga.
About Audiology Services of Chattanooga: Audiology Services of Chattanooga is a diagnostic and preventive hearing care service provider. The advanced audiological care from the clinic is available in Chattanooga and its adjoining regions. The clinic has recently introduced their new website with tons of new features.