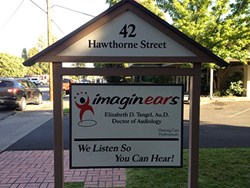 Medford, OR (PRWEB) May 16, 2013
Imaginears, Inc. recently added a blog to the company website to offer hearing care tips to area residents on a consistent basis. The audiologists at Imaginears, Inc. have brainstormed a long list of categories and topics for the new blog. The blog articles will cover topics ranging from frequently asked questions, to preventative care, to advances in hearing aid technology, to cutting-edge research into better hearing tests or reversing hearing loss. The audiologists plan to post a new article on the blog weekly. Content added to the blog will also be accessible via the company's Facebook and Twitter accounts. An RSS feed will automatically syndicate all new content.
Imaginears, Inc. is encouraging everyone who wears hearing aids in Medford or Ashland as well as all former and current patients to visit the blog regularly. Currently, the blog only contains a handful of articles, but it will expand rapidly over time. Here are just a few examples of articles already published:
A Review of the Terms Used in Hearing Loss Classifications
A Primer on Hearing Aid / Cellular Phone Compatibility
Tinnitus Retraining Therapy Basics
Why Can You Hear Male Voices Clearly but not Female Voices?
Selecting Between One Hearing Aid or Two
Imaginears, Inc. invites all patients and Medford-area residents who wear hearing aids or are suffering from hearing loss to submit additional ideas for categories or topics.
About Dr. Elizabeth Tangel
Dr. Elizabeth Tangel received her master's degree in Audiology in 1993 from Sacramento State University in California. She received her doctoral degree in Audiology from A.T. Still University School of Health Sciences in Arizona in 2008. She worked for an Ear, Nose and Throat clinic in Yakima, WA for seven years before moving to the Rogue Valley in 2000. Dr. Tangel enjoys educating her patients about hearing loss and in addition to offering the most advanced treatment options. She particularly likes combining her computer skills with the art of Audiology in fitting patients with the most advanced hearing aid technology and getting the instrument adjustments just perfect for each patient. Dr. Tangel is a member of the Academy of Doctors of Audiology and continues to further her education by attending seminars and training on a regular basis.
About Imaginears, Inc.
The mission statement at Imaginears, Inc. is to provide the communities of Medford and Ashland, Oregon with the best quality hearing care possible. The audiologists and support staff at Imaginears are committed to serving their patients with kindness and compassion and always working together with patients and families to devise the best solutions. If that solution includes hearing aids, Imaginears is committed to recommending the technology that works best for your level of hearing loss, compliments your lifestyle and fits within your budget.
Contact
Dr. Elizabeth Tangel
http://imaginears.com
Imaginears, Inc.
42 Hawthorne St
Medford, OR 97504
(541) 210-9648
Imaginears, Inc.
1875 Hwy 99 N, Ste 8
Ashland, OR 97520
(541) 855-3825