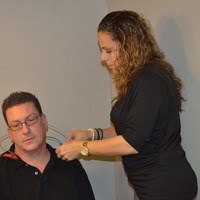 Progressive Hearing in Miami Offers Award-Winning, Educational Video
Miami, FL (PRWEB) March 21, 2013
The company known for its patient education on hearing aids and hearing loss in Miami FL, Progressive Hearing, now offers its clients a helpful video on hearing care and hearing advancements. Patients can now access the video, presented by Progressive Hearing to provide people with a breadth of knowledge on hearing loss. New patients can watch the video and decide whether they should make an appointment with one of the qualified audiologists at Progressive Hearing.
The professionals at Progressive Hearing promise to work closely with patients to discover where they are having the most difficulty communicating. Then, they will collaborate with each patient to determine the best solution to increase their ability to hear and understand in the situations they describe. If that solution includes hearing aids, then the staff is committed to recommending the technology that works best for each patient's level of hearing loss and lifestyle.
Susan Roth is an Audiologist and the owner of Progressive Hearing. Susan received her Doctorate in Audiology from the University of Cincinnati in 1995. She also minored in gerontology, obtaining a Certificate in Gerontology from The Scripps Foundation in Oxford, Ohio where she also completed her undergraduate degree. She has the education and experience to back her business, which provides hearing healthcare services in the Miami and Aventura areas. As an "Air Force Child", Susan lived all over the country as well as in Europe. She moved to the Sunshine State in 1995, where has finally settled for good.
About Progressive Hearing:
Progressive Hearing has provided hearing aids in Miami, Florida and its surrounding communities for over 10 years. The company offers a full range of diagnostic and preventative hearing healthcare professional services, including hearing aid screening, evaluations, hearing aids sales and rehabilitative and preventative counseling. The staff at Progressive Hearing is dedicated to keeping abreast of the latest improvements in technological advancements in the hearing industry and is committed to offering the most current options to their patients.
Contact:
Susan Roth
http://www.progressivehearing.com/
Progressive Hearing
4302 Alton Road
Miami, FL 33140
(786) 232-4977
Progressive Hearing
2845 Aventura Blvd., Suite 248
Aventura, FL 33180
(786) 245-6119