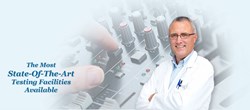 The top provider of hearing aids in Palmyra PA, Hearing Aid Associates, recently added an online hearing test to its website.
Palmyra, PA (PRWEB) March 08, 2013
The top provider of hearing aids in Palmyra PA, Hearing Aid Associates, recently added an online hearing test to its website. To help the residents of Palmyra decide whether they need a professional hearing evaluation or may be a candidate for hearing aids, Hearing Aid Associates created the one-minute hearing test. Patients' answers to the 11 questions will help them decide if they are a candidate for a professional hearing evaluation. Even a single 'yes' response to one of the questions indicates that it is time for a hearing test from a professional audiologist. The hearing test is simple and quick—patients can do it from their own home within minutes.
After taking the online hearing test, Hearing Aid Associates patients can download a Guide to Better Hearing and then schedule an appointment or consultation by calling. New and returning clients can also watch video testimonials of satisfied customers to help determine what the staff can do for their unique hearing needs.
Apart from the new online hearing test, the website of Hearing Aid Associates also has several other useful resources for people with hearing related disorders. The most popular are the free online hearing tests and free evaluation service. Many individuals with hearing related concerns have been using hearing aids supplied by Hearing Aid Associates with great satisfaction for many years. Diana Kramer LPN, the clinical care manager from Chestnut Knoll Assisted Living, strongly recommends their service saying, "Please let this serve as a letter of recommendation for Hearing Aid Associates. Chestnut Knoll Assisted Living has been utilizing Hearing Aid Associates, to aid the Residents on improving their quality of life thru better hearing with Hearing Aids. Hearing Aid Associates has been very resident and family friendly. Their communication with the staff at Chestnut Knoll has been exceptional. We look forward to continue working with Hearing Aid Associates."
About Hearing Aid Associates:
Hearing Aid Associates is one of the most reputed hearing healthcare service providers in Pennsylvania with seven locations. Hearing Aid Associates has provided hearing aids to the Northern Pennsylvania area and its surrounding communities for over 10 years. The company offers a full range of diagnostic and preventative hearing healthcare professional services, including hearing aid screening, evaluations, hearing aids sales and rehabilitative and preventative counseling. The staff is dedicated to keeping abreast of the latest improvements in technological advancements in the hearing industry and is committed to offering the most current options to our patients.
Contact:
Ed Graberck
http://hearingaidassociates.net
Hearing Aid Associates
115 E. Main St
Palmyra, PA 17078
(717) 473-4160
Hearing Aid Associates
6 Hearthstone Ct, Suite 105
Reading, PA 19606
(610) 816-6024
Hearing Aid Associates
1610 Medical Dr, Ste 103
Pottstown, PA 19464
(610) 482-4164
Hearing Aid Associates
1220 Valley Forge Rd., Suite 1B
Phoenixville, PA 19460
(484) 985-4029
Hearing Aid Associates
35 North Walnut St
Boyertown, PA 19512
(484) 334-2595
Hearing Aid Associates
4500 Oakhurst Blvd., Suite 315
Harrisburg, PA 17110
(717) 745-1177
Hearing Aid Associates
211 West Penn Avenue
Cleona, PA 17042
(717) 685-4115