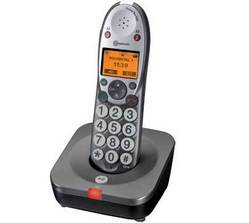 Hearing loss causes some sufferers to avoid or even abandon the telephone, creating a barrier that impacts their families and friends as well
Nashville, TN (Vocus) August 31, 2010
A simple phone conversation isn't easy for people with even the mildest hearing loss. And that's where the new Amplicom PowerTel 500™ amplified phone comes in. They are compatible with most hearing aids as well as cochlear implants. One of the loudest and clearest amplified phones on the market, the PowerTel is the only one that offers yourSOUND™multiple hearing profiles, enabling all the members of one household to program their own ideal volume and frequency, and to switch back and forth at the touch of a button. It also features DECT 6.0 (Digital Enhanced cordless Telecommunications) interference-free technology.
"Hearing loss causes some sufferers to avoid or even abandon the telephone, creating a barrier that impacts their families and friends as well," says Michael Abramowitz, President, Amplicom USA. "For the aging population, the resulting isolation is very serious, since independence and safety are at stake. An Amplicom amplified phone is a gift of peace-of-mind and enjoyment, both for the giver and the receiver," he adds.
Amplicom phones are not just for hearing aid wearers, but also for anyone with marginal hearing loss. Often, these consumers only experience problems while talking on the phone. Hearing adjustment is not just a matter of volume, but of tone frequencies. Amplicom's tone control allows each user to find the perfect level for optimal communication.
And Amplicom designs its phones to be vision-loss friendly as well. The keypad features large, high contrast easy-to-read buttons. A brightly illuminated LED window displays the time and incoming caller numbers. Future product offerings will also incorporate talking buttons and talking Caller ID for better feedback to low vision users. In addition, several accessories such as a wireless shaker and alarm clocks with extra loud ringers and wireless vibrating pads are offered.
Suggested retail for the PowerTel 500 is $139.95. Soon to be available is the PowerTel 501, an expandable handset that works with all cordless base PowerTel phones, for $89.95, as well as a series of combination telephone and answering machines.
For further information, to find a distributor, or to request assistance, please visit http://www.amplicomusa.com or call 866.AMPLICOM.
###