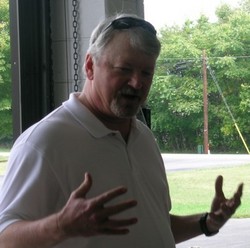 We've been able to dramatically reduce the time it takes to get a patient into treatment, and I believe we are saving more lives as a result.
Roanoke, Va. (Vocus) November 2, 2007
Dave Cole, who has developed architectural designs most of his life, was recently saved by a different kind of design -- a protocol called "Heart Alert" that outlines steps of treatment for heart attack patients.
Cole worked on the design and architecture of Roanoke County's Fort Lewis Fire & Rescue Station 9, the same station that came to his aid when he suffered a heart attack in his Salem home. Station 9 is one of many local fire and rescue stations that had been trained in the program, which was designed by Carilion Clinic to diagnose and treat heart attack victims as quickly and efficiently as possible. It was this program's design that got Cole from his home to Carilion Roanoke Memorial Hospital's (CRMH) catheterization lab, where he received the life-saving treatment he needed.
Cole, 54, recently had the opportunity to go back to the building he helped design to meet and thank the rescue team that saved his life, including paramedic Chad Wheeler.
Wheeler put his Heart Alert training to the test when he picked up Cole, who lived only minutes from the station. Using a 12-lead heart monitor, or electrocardiogram, Wheeler was able to diagnose Cole en route to the hospital, saving time and ultimately saving Cole's life.
"We train day and night for this," Wheeler said. "It's a great feeling to be able to help."
Wheeler, and Roanoke County Fire & Rescue, began training with the Heart Alert program in February. Station 9 was one of the first stations in the area to implement the program. The protocol is designed to expedite treatment in heart attack patients, when time matters most. Using the Heart Alert program, paramedics are able to identify a heart attack in the field and notify CRMH while en route. This allows them to bypass the ER completely and gives the medical staff in the heart catheterization lab ample time to prepare for the patient and get them the treatment they need as quickly as possible.
"It was one efficient process," Cole stated. "They knew what they were doing, having had the training that Carilion set up. Everybody had a role and did it, and I'm the one that benefited. I'm living proof that the program's working."
Paul Frantz, M.D., medical director for Carilion Clinic's Cardiac Program, was instrumental in bringing the Heart Alert program to life. He said that through the program, "We've been able to dramatically reduce the time it takes to get a patient into treatment, and I believe we are saving more lives as a result."
Cole is now in cardiac rehab through Carilion Clinic. He said, "We might build the structure, but it's the people and the programs that make a medic unit. I've got a second chance because of these guys."
Carilion Clinic's Heart Alert program has been in operation for more than three years and has already treated over 500 patients. Through its coordinated transportation plan and involvement with 13 community hospitals, as well as local fire and rescue stations, the program has a service radius of over 200 miles.
Learn more about Dave Cole's story and other news from Carilion Clinic by visiting CarilionClinic.blogspot.com.
###