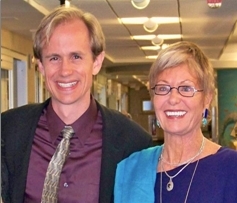 We (care givers) are the light in institutional darkness, and in this Caritas model we get to return to the light of our humanity.
Boulder Creek, California (PRWEB) August 20, 2009
HeartMath® LLC is proud to announce the launch of the Caritas HeartMath National Pilot Program. HeartMath and the Watson Caring Science Institute (WCSI) collaborated to create a program that is transforming healthcare delivery models. In today's overworked and high-stress healthcare environment, patient care is often compromised - treating those in need as a "body" instead of seeing and treating them as a "human being." The program combines HeartMath's research and applications, designed to facilitate healthcare practitioners in developing the essential balance of caring for self and patient, with Dr. Jean Watson's "Caring Science" theory, where true care precedes all professional health practices. Numerous healthcare organizations will participate in this national program, with Kaiser Permanente in Antioch, California being the first site to launch the program with their nursing staff this week. Dr. Jean Watson, Founder of WCSI and Distinguished Professor of Nursing and an endowed Chair in Caring Science at the University of Colorado Denver and Health Sciences Center, along with Mr. Jim D'Alfonso, Chief Operations Officer/Chief Nurse Executive for the WCSI, and Mr. Robert Browning, HeartMath's Director of Project Development for the Healthcare Systems Division, are project leaders for this national pilot program.
The objective of the Caritas HeartMath National Pilot Program is to transform current healing models beyond the "fix it" approach where healthcare solutions can overly focus on drugs and surgery as the sole answer. The Caritas HeartMath model emphasizes the positive impact that human care brings to the healing process of the patient. The model does not exclude the importance of current practices but rather honors "true care" as a critical component in wholeness healing. The emphasis on care benefits the overall healthcare environment, uniting staff in a shared and focused commitment to improve and care for the lives of others.
Dr. Watson pioneered the field of caring science, which is grounded in the discipline of nursing and evolving nursing science and encompasses a humanitarian and human science orientation to cultivate human caring processes and experiences.
Bruce Cryer, CEO and President of HeartMath LLC, said, "We are honored by and enthusiastic about this strategic partnership with the Watson Caring Science Institute. Based on Dr. Jean Watson's ground-breaking work, WCSI's mission to restore the profound nature of caring and healing back into healthcare practices is one that resonates strongly with HeartMath's mission over the past twenty years. This will be a very powerful collaboration between two organizations which complement each other perfectly."
In addition to Kaiser Permanente Antioch Medical Center in California, other healthcare sites participating include Samaritan Medical Center in Verona, New York and Baptist Health Medical Center in Jacksonville, Florida. Chesapeake Regional Medical Center in Norfolk, Virginia is also a pilot site and will be training approximately 1,000 employees in 18 nursing units.
"As a project leader of the Caritas HeartMath National Pilot Program it has been extremely rewarding to work closely with Dr. Watson and her staff at WCSI," says Robert Browning of HeartMath. "Dr. Watson's theory gives a language and a context in which nurses can effectively care for their patients, themselves and each other. HeartMath provides the underlying scientific principles, methodologies and tools to manifest this care amidst a stressful environment."
Based on the research and clinical studies conducted by the nonprofit Institute of HeartMath for nearly two decades, HeartMath programs have demonstrated significant improvements in performance, health, employee satisfaction and staff retention. At the core of the HeartMath system is a set of scientifically validated techniques and technologies that can help all people within an organization gain renewed energy, greater mental health and emotional clarity and reduced stress, resulting in an environment where care is more effectively given and received.
HeartMath leaders say that as more health professionals are lifted from the stress trenches it allows them to realign with their original intention to care for those in need. Focusing on strengthening skills that accentuate authentic care will not only help the healing process for patients but also for the environment within our healthcare system.
Many healthcare professionals say that HeartMath, Dr. Watson and WCSI are transforming healthcare practices by restoring the heart of nursing and healthcare through theory-guided philosophical practices of love and caring as the foundation for healing.
Dr. Jean Watson says, "We (care givers) are the light in institutional darkness, and in this Caritas model we get to return to the light of our humanity."
Robert Browning adds, "Stress has never been more prevalent in the healthcare industry and as a result patient care is often compromised. Embracing HeartMath's methodology and Dr. Watson's model of caring science is extremely important to the cohesion of staff and the delivery of quality care in all respects. The healthcare industry has been heavily focused on technological and treatment solutions for enhancing patient care. This program models the true intention of care by including the human component - where care itself is seen as an essential element in the healing process."
Project leaders of the Caritas HeartMath National Pilot Program believe that this program will help to reduce the current overload of stress that our nurses and all of our healthcare professionals are experiencing and it will help to restore the true intention of "care" in the practice of healthcare.
HeartMath has been selected as one of three finalists chosen from a highly competitive group of nominees for this year's ABBY Award in Innovative Approaches to Delivering Healthcare. To learn more about the HeartMath organization visit http://www.heartmath.com . Stay up to date on their news and events by joining HeartMath on Facebook, Twitter and YouTube.
About HeartMath: http://www.heartmath.com
For nearly two decades, HeartMath has researched and refined a set of unique tools and proprietary technology designed to boost performance, health and productivity while dramatically reducing stress. HeartMath's scientifically validated methods have been proven to measurably and immediately re-train the stress response to a healthier and more satisfying, productive function. Numerous case studies substantiated the effectiveness of the program, showing quick, sustained improvements in stress, health, well-being, performance and vitality. HeartMath has developed an international reputation for the practicality and simplicity of its tools, the immediacy of its feedback technology, and the measurable results. From its published clinical research to its work with such clients as Mayo Clinic, Duke University Health System, Stanford Medical Center, UCSF's Center for the Health Professions, Sutter Health, Kaiser Permanente, Blue Cross Blue Shield, American College of Healthcare Executives, California Hospital Association, Britain's National Health Service, and dozens of hospital systems across the US. In 2005, HeartMath was honored with the ACHE "Management Innovations" award for its work with Delnor-Community Hospital in St. Charles, Illinois, and was a finalist for ABL's Innovations in Healthcare Award. HeartMath's emWave Personal Stress Reliever technology won the 2009 "Caregiver Friendly Award" from Today's Caregiver magazine.
About Dr. Jean Watson:
Jean Watson, PhD, RN, AHN-BC, FAAN, is an internationally renowned expert in Caring Science and is a Distinguished Professor, who holds the Murchinson-Scoville Endowed Chair in Caring Science at the University of Colorado Denver, founded WCSI to translate her renowned 30 year Caritas Model of Caring-Healing into programs and services to transform healthcare one nurse / one educator / one system at a time. She is the founder of the original Center for Human Caring in Colorado and the International Caritas Consortium, a network of systems using caring theory to transform practitioners and healthcare systems. She founded WCSI to restore the profound nature of caring-healing and unify the current healthcare system by advancing the philosophies, theories and practices of her renowned and groundbreaking model, the Theory and Science of Human Caring. She has authored over 100 publications and more than 13 books on the Science of Human Caring. Her newly revised edition of the 1979 classic: Nursing: The Philosophy and Science of Caring was released in May, 2008. Dr. Watson is a Fellow in the American Academy of Nursing, and the recipient of numerous awards and honors, including the National Fetzer Institute Norman Cousins Award, an International Kellogg Fellowship in Australia, a Fullbright Research and Lecture Award in Sweden, and six Inter/national Honorary Doctorate Degrees.
About Watson Caring Science Institute: http://www.watsoncaringscience.org
Founded in 2007 Dr. Watson created the international nonprofit Watson Caring Science Institute with the mission to restore the profound nature of caring-healing and support the current healthcare system to nurture and retain its most precious resource, competent, caring professional nurses. WCSI builds upon the lifetime background and global academic and clinical expertise of Dr. Watson and her renown 'Theory of Human Caring' in the field of Caring-Healing Science. WCSI is dedicated to help the current healthcare system retain and nurture its most precious resource, caring professional nurses, while preparing a new generation of health practitioners in a global model of Caring Science. The practical outcome: optimum caring-healing for the public, reduction of high nurse turnover, and decrease of costs to the system.
Media Contacts:
HeartMath LLC: Gabriella Boehmer
gboehmer(at)heartmath(dot)com, (831) 338-8710
Watson Caring Science Institute: Barbara Hope
Barbara(at)barbarahope1(dot)com
# # #