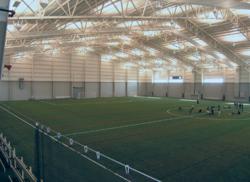 Cambridge is the ultimate heating system for the ultimate indoor soccer facility.
St. Louis, MO (PRWEB) June 21, 2012
The 6-acre Ultimate Soccer Arenas facility in Pontiac, MI is the largest and most modern indoor sports arena of its kind in North America. Everything is state-of-the-art, including their energy efficient, modern direct gas-fired Cambridge heating system. This 267,000 square foot indoor recreational facility was designed to provide the ultimate indoor soccer experience for teams, coaches, players and their families. In addition to first-rate fields, the indoor stadium has over 2000 permanent seats for spectators. Over a million people visit the sports facility each year.
The sports facility owner wanted the best commercial heating system for sports facilities possible to provide clean, energy efficient heat with very even temperatures throughout the large indoor sports complex. At first he considered conventional, indirect gas-fired air turnover heating equipment. However, this approach required a complicated and expensive system of large heaters installed inside the building taking up valuable floor space.
A local mechanical contractor, recommended state-of-the-art Cambridge Blow-Thru Space Heaters. Only a few small units were needed to heat all three buildings. Initially the owner was a little concerned when he first saw the Cambridge heaters and thought some parts were missing because they were so small. He didn't think there was any way they could heat the entire indoor sports facility. He has since become a big fan of energy efficient Cambridge heaters. Despite a cold first winter, the Blow-Thru space heaters did a great job heating the indoor stadium, circulating the air and providing very even temperatures without stratification despite a 72' high roof peak. Best of all, energy use was even lower than expected.
Another big benefit of a modern Cambridge heating system for indoor sports facilities is improved air quality. Many indoor sports facilities have an odor associated with recreational activities in the building because there is too much recirculation of indoor air or not enough ventilation and air movement. Small but powerful Blow-Thru Space Heaters help solve this problem by using only non-recirculated fresh outside air.
"The ultimate benefit is that no one really notices the Cambridge heaters at the indoor sports complex," said Ken Williams, Director of Marketing for Cambridge Engineering. "You don't hear them, smell them or feel them blowing on you. You could say there is really nothing else like it for heating large indoor sports areas. Cambridge is the ultimate heating system for the ultimate indoor soccer facility."
About Cambridge Engineering:
Building owners, developers, property managers, consultants, engineers and contractors now specify cost effective, energy efficient Cambridge space heaters and make-up air heaters to reduce installation costs, operating costs and improve indoor air quality for large indoor sports facilities.
For more information, visit http://www.cambridge-eng.com or call 800-899-1989.