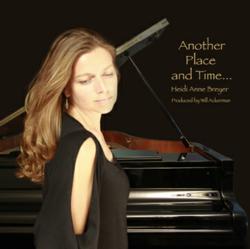 This is music informed by years of study and a rich life. The music is at once technically breathtaking and emotionally intimate. A rare and wonderful combination.
- Will Ackerman, producer
Los Angeles, CA (PRWEB) August 18, 2011
Heidi Anne Breyer, who won Zone Music Reporter's Best Instrumental Piano Album 2010 and Best New Artist of 2010, has signed a distribution agreement with New Leaf Distributing, to begin this Fall. She also announced the recording of a new album, due out this winter, and a forthcoming DVD collection of relaxing music videos.
The new album, Breyer says, promises an introspective view of the artist's life, combined with a passionate perspective on her adopted country, the United States. Central to that theme is the ever-evolving piece "American Gothic," which Breyer debuted on her initial album release, Winter Light. The new album will be produced with GRAMMY® Award winning Producer and Engineer Corin Nelsen of SynchroSonic Productions Inc. in Maine.
Another Place and Time garnered across-the-board critical acclaim and won Breyer the aforementioned ZMR honor, which is decided largely by airplay and the votes radio DJs. Recorded and produced by Grammy®-Award winning producer Will Ackerman at his Imaginary Road Studios, Another Place and Time is a collection of Breyer's original compositions with haunting melodies and vocals that reflect upon the most intimate moments of our lives. In addition to piano and vocals by Breyer, Another Place and Time features several of today's finest musicians including cellist Eugene Friesen, Charles Bisharat on violin, Jeff Oster on flugelhorn, Jill Haley on English horn and turns on guitar by both Will Ackerman and David Cullen.
In describing Breyer's first two albums, respected music reviewers like Kathy Parsons, Bill Binkelman, RJ Lannan, and Michael Debbage have used phrases like "haunting," "powerful and evocative," and "a stunning contemporary piano album." Breyer's work as a musician, vocalist, lyricist and composer often reflects the art and poetry that inspires her, whether it be the introspective paintings of Alexander Volkov or the poignant poetry of Maricet Delaney or Mary Oliver. In fact, Volkov's paintings were the inspiration for various pieces on Another Place and Time, leading to a series of 12 music videos, soon to be available as a collection on DVD.
Indeed, it has been said that Breyer uses her music to paint in sound; from concert halls to art galleries to film and TV, Breyer's compositions and lyrics create poetic images with lingering emotional impact. Corin Nelsen, the producer of Breyer's forthcoming album who also engineered, mixed and mastered Another Place and Time, says "Heidi's music is contemplative and very cinematic...you can feel within it that crucial moment when the lens pulls back and the lead character realizes a huge emotional change and redirects the course of the rest of the film. Her new music has grown in both maturity and exploration. Hints of Jazz and Blues add new colors to her already breathtaking soundscapes."
Prior to Another Place and Time, Breyer recorded a holiday album titled Winter Light, which she calls "the result of an explosion of creativity." Released in October 2009, it features both heartfelt original compositions and well-known Christmas carols. The experience gained by producing Winter Light led Breyer to her collaboration on Another Place and Time with legendary guitarist and producer, Will Ackerman, founder of Windham Hill Records.
"Our creations are an affirmation of life," Breyer said, following the release of Another Place and Time. "Whatever form they take, they are the legacy we leave, reflecting the most poignant moments of our short time here."
Breyer was classically trained in drama, dance and music, first at The Arts Educational School in Hertfordshire, UK, and later at Trinity College of Music in London; currently, she resides in the United States. She is reachable via her official website and on Facebook.
Another Place and Time and Winter Light are available on the artist's website, on Amazon, iTunes, CDBaby, and via New Leaf Distributing, Inc. for specialty retail.
About Heidi Anne Breyer:
From an early age, Heidi's life was inextricably linked to music through dance, drama and music study at the Arts Educational School in Hertfordshire, UK and later at Trinity College of Music in London. Following a business career, Heidi immersed herself in music once again teaching piano, performing recitals, accompanying chamber and choral groups and playing the church organ. Now based in New Jersey, in recent years, Heidi experienced a musical awakening and returned to her deep passion for writing music.
###