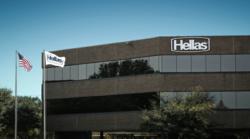 These additional resources are necessary to ensure each of our customers receive hands-on, personal attention.
Austin, Texas (PRWEB) March 30, 2013
Austin-based Hellas Sports Construction is re-emphasizing its commitment to quality, customer service, and American-made products as the company is expanding its headquarters along with manufacturing capabilities. Earlier this year, plans were set in motion to expand their customer service and support staff, and the company's turf, track, and tennis court production facilities. Those plans came to fruition this month, beginning with Hellas opening a new facility to house its growing fleet of construction equipment, turf maintenance machinery, and delivery vehicles for its epiQ TRACKS line of eco-conscious running tracks and Matrix Turf line of synthetic turf. In addition, Hellas recently completed an expansion at its polyurethane and running track production plant in Liberty Hill – Roxie Polymers.
Several employees transitioned offices and moved into the newly renovated space to make way for additional staff. The reorganization also helped align individual departments in close proximity to those with which they work the most. Divisions within Hellas Sports Construction that saw the largest increases, include Project Management, Estimating, and CAD Design.
"These additional resources are necessary to ensure each of our customers receive hands-on, personal attention," noted Reed J. Seaton, President and CEO of Hellas Sports Construction. "I'm proud of the new talent we're bringing on board. They will help deliver a more valuable experience for clients from start to finish."
Hellas Sports Construction employs full-time staff of over XX employees, with specific divisions dedicated to planning, manufacturing, construction, installation, and even maintenance of its proprietary athletic systems. This unique structure positions Hellas as a centralized hub for its sports construction projects – providing on-time delivery and personalized support – something Hellas' customers have come to appreciate.
Hellas Sports Construction is a nation-wide contractor with a strong reputation for delivering premium-quality sports construction projects across the United States. In addition, Hellas has the ability to custom-manufacture and install proprietary brands of synthetic surfaces for field sports, running tracks, and tennis courts, by controlling all related operations. In addition to a headquarters in Austin, Hellas operates several US-based offices. Clients include the NFL Experience, Cowboys Stadium, Baylor University, Idaho State University, the Alamodome, Northern Arizona University, University of North Carolina at Charlotte, University of San Diego, University of Georgia and various other prominent high schools, collegiate institutions, and stadiums.
For more information about Hellas Construction, visit: http://www.hellasconstruction.com.