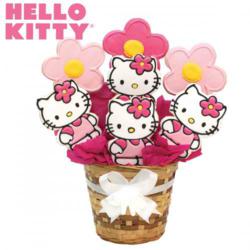 Islip, NY (PRWEB) March 20, 2013
For the best hello kitty gift, toys and apparel are generally chosen by a large number of people. These generic dolls or bags have been continually dominating the local markets ever since Hello Kitty came into existence. But now that so many years have passed, the same old accessories aren't enough to live up to the enthusiasm of the Hello Kitty fans of today. Sensing this issue, the renowned Cookie expert Clever Cookie has again practiced its devotion towards gift giving innovation and has introduced an adorable Hello Kitty arrangement at an affordable price.
A cookie arrangement is usually composed of delicately designed, fresh, wholesome cookies arranged beautifully towards a theme. These arrangements are best given as gifts on special occasions and holidays. The maker, Clever Cookie, aims towards breaking the norms of gift giving with the introduction of these exquisite cookie arrangements.
The best Hello Kitty gift, the adorable cookie arrangement, is composed of 7 large, exquisitely designed, delicious, hand decorated, Hello Kitty themed, short bread, fresh and wholesome cookies that are sure to surprise anyone that the they're gifted to. With these brightly colored, highly detailed designer cookies, giving gifts to girls will surely be an affair to remember. Perfect for little Hello Kitty fans, parents can imagine the delight of their young angel when she holds the adorable arrangement in her hand.
The gift card service with the arrangement allows people to get written whatever they'd like on a card, in neat, delicate writing.
Clever Cookie's offer is in accordance with the official licensee character, Hello Kitty.
To learn more about Clever Cookie's Hello Kitty arrangement, click http://www.clevercookie.com/shop/birthday/hello-kitty-arrangement/.
About Clever Cookie:
Clever Cookie was founded in 1991 by sibling entrepreneurial spirits Lisa and David, who determined that cookies should be more than sweet treats—but creative confections that delight cookie-lovers of all ages! The company has been showcased numerous times on both print and electronic media and continues to gain popularity with an ever increasing clientele. To learn more, visit Clever Cookie's main site at http://www.clevercookie.com/
Contact:
Howard Saffeir
http://www.clevercookie.com/
info(at)clevercookie(dot)com
1-800-237-8443