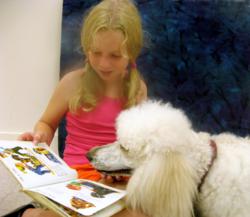 "The R.E.A.D. program has the ability to truly transform a child's ability and willingness to read," Risa B. Hoag, R.E.A.D. Trainer
Rockland/Bergen/Orange, NY (PRWEB) March 20, 2013
The Hudson Valley Visiting Pet Program will host three animal assisted therapy programs in April, May and July.
A Reading Education Assistance Dogs (R.E.A.D. ®) training workshop is scheduled for Saturday, April 20th from 9:00 am until 2:00 pm at the Tolstoy Foundation, 104 Lake Street in Valley Cottage, New York. Individuals who wish to work with their animal to help children learn to read are encouraged to attend this program. Librarians, school teachers and school administrative staff who want to learn more about the program and how it could enhance the reading curriculum in their library or school, are also encouraged to attend. This workshop is for humans only; training for pets is done separately and the program accepts dogs, cats, birds, rabbits, guinea pigs, hamsters and even horses.
R.E.A.D. was developed in 1999 by Intermountain Therapy Animals in Salt Lake City Utah to improve the literacy skills of children through the assistance of registered therapy teams as literacy mentors. This unique educational approach was first introduced on CBS's "60 Minutes" more than 20 years ago.
Today there are more than 20 R.E.A.D. teams in the Hudson Valley Visiting Pet Program and several area elementary schools have regular R.E.A.D. teams who work with children on a weekly basis in Orange, Rockland and Bergen counties. The teams do this work on a volunteer basis and are not paid for their services which translates into a free literacy program for schools who are selected to participate.
Teachers know that learning to read is often less about intellectual limitation than about overcoming fears. Animals are ideal reading companions because they help increase relaxation and lower blood pressure; listen attentively; do not judge, laugh or criticize; allow children to proceed at their own pace; and are less intimidating than classmates, teachers, parents, or tutors. Often the child's dread of reading is replaced by eager anticipation facilitating learning. While the child is primarily reading to the dog, the handler provides support if necessary.
On Saturday, May 18th, the Hudson Valley Visiting Pet Program will host an all breed Temperament Test. The ATTS Temperament Evaluation measures the dog's strength of response to arrive at the temperament baseline. Dogs of at least 18 months of age, either pure-bred or neutered or spayed mixed-breeds, are eligible to participate. Owners of eligible dogs, which pass the test requirements and are officially verified by ATTS, will be awarded an ATTS Temperament Title Certificate showing the dog's TT number with breed designation. This title may be listed after the dog's name.
On July 13th and 14th The Hudson Valley Visiting Pet Program will host a two day Handler Workshop for those interested in learning how to become a pet partner team. The program runs from 9am until 5pm each day and will be conducted at 104 Lake Road in Valley Cottage, NY. Participants must register in advance by downloading a registration form from the group's website.
Members of the Hudson Valley Visiting Pet Program have been visiting nursing homes, assisted living residences, day programs, schools, libraries, and hospitals since 1993. The group is also an affiliate of Reading Education Assistance Dogs which operates in 49 states and three countries with over 2000 teams.
To attend the programs, visit the organization's website at http://www.HudsonValleyVisitingPets.com and download the registration forms. For more information about Hudson Valley Visiting Pets and the other work they do and facilities they visit, contact Dolores Schaub at 845-267-8795, or email Dolores(at)HudsonValleyVisitingPets(dot)com .