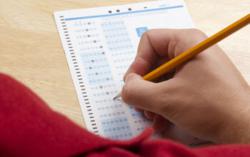 Austin, Texas (PRWEB) March 06, 2013
Adventures in Wisdom™, creator of the Adventures in Wisdom Life Coaching Program for Kids™, is announcing its newest program to help kids create confidence and success in life – the ACE IT System for Taking Tests™.
Using a story-based format, The ACE It System for Taking Tests™ helps kids learn how to prepare for and take tests so they can shorten their study time, take tests with confidence, and make great grades.
"Our kids take thousands of tests in school but are rarely taught how to take them," shared Renaye Thornborrow, personal development expert, founder of Adventures in Wisdom, and author of the ACE IT System for Taking Tests™. "If your children get stressed out on test day - waking up with a tummy ache or looking for excuses to stay home - or they know the answer at home but freeze up during tests, then this program is for them."
The key to the ACE IT System for Taking Tests™ is helping kids understand how their brain works so they can take advantage of brain science to learn quicker and to perform better.
"ACE IT" is an acronym that stands for the 5 major lessons taught in the program. Using a story format, kids follow Amy, Carlton, and Eddie as they are guided by character mentor, Wyatt the Wise Wizard, through the ACE IT System for Taking Tests™. Through the curriculum, your kids learn how to:

Create an attitude and a mindset for success
Develop effective learning skills so they can better recall what they study
Take tests with intention, integrity, and inner calmness
Apply test taking strategies to increase their score
Until March 15th, parents, mentors, and educators can get an additional 25% discount off of the ACE IT System for Taking Tests™ introductory price by entering the code "ACEIT" on our website. Just visit http://adventuresinwisdom.com/ace-that-test to learn more and grab your copy.
About Adventures in Wisdom
Based in Austin, Texas, Adventures in Wisdom™ helps parents bring personal development into their parenting by giving them step-by-step tools to show their kids how to handle the ups and downs of growing up without getting down on themselves; how to think for themselves and make good decisions; and how to go for their dreams and make them happened. Their breakthrough life coaching program for mentoring kids uses short stories and activities to teach children ages 6-12 these powerful skills. For more information call 860-580-WISE or visit http://www.AdventuresInWisdom.com.