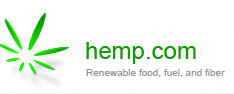 The first all-hemp, publically-traded company in US History,Hemp, Inc. (OTC: HEMP), hemp.com, blows the lid off a nest of deception.
(PRWEB) September 28, 2012
It wasn't until this year, August, US senators Jeff Merkley, Ron Wyden, Bernie Sanders and Rand Paul ardently worked together in a bipartisan effort to get industrial hemp removed from the federal doghouse. If passed, this historic senate bill will create economic opportunities by removing federal restrictions on the domestic cultivation of industrial hemp.
Before light is shed on the benefits on hemp, let's take a look at how and why hemp has been getting a bad rap over the years. According to Hemp, Inc. (OTC: HEMP), the first all-hemp, publically-traded company in US history, William Hurst, an influential American newspaper publisher, created a yellow journalism campaign to associate hemp with marijuana. Why?
Commercial hemp seeds contain very low amounts of THC, the property responsible for the drug response, plus they contain a substance that counteracts THC. According to Dr. David P. West, who specializes in plant breeding and genetics and who has written a plethora of articles on industrial hemp, says, "The washed hemp seed contains no THC at all. The tiny amounts of THC contained in industrial hemp are in the glands of the plant itself. Sometimes, in the manufacturing process, some THC- and CBD-containing resin sticks to the seed, resulting in traces of THC in the oil that is produced. The concentration of these cannabinoids in the oil is infinitesimal. No one can get high from it."
Hurst, along with his friend Pierre DuPont, succeeded in outlawing hemp in America and in turn robbed the world of an environmental cash crop. Why would they do such a thing? As noted by Hemp.com, "Because instead of using hemp for paper, clothing, fuel, oils, resins, medicines, and many other uses, we now use trees and synthetic petrochemicals. Hearst owned huge forests and interests in lumber mills. DuPont made synthetic fuels and fibers (nylon, rayon, plastics) from petroleum." Go figure.
Hemp seeds go back as far as 8,500 years. Initially, the Chinese were harvesting it and using the plant fibers to produce durable cloth, however, 3,000 years ago, they began using the seeds as a food source. Hemp seeds have been a proven source of protein on the planet, primarily because they contain all twenty one known amino acids.
Clinical herbalist, Larken Bunce, says, "Hemp seeds are a nutritionally dense food source that provide the body with necessary macro- and micronutrients, including protein, essential fatty acids, fiber, vitamins and minerals. The addition of hemp seeds to your daily diet can ensure you are getting necessary essential fatty acids, a good balance of protein and carbohydrates, a good source of fiber as well as some essential vitamins and minerals."
Essentially, the human organism is unable to produce all essential amino acids, but amazingly, hemp does. The hemp seeds are a great source of polyunsaturated fat as well as essential fatty acids. According to Nourishing Gourmet, hemp foods are also a rich source of phytonutrients, the organic compounds of plants that are thought to promote human health.
More specifically, Dr. Cassandra Forsyth, nutrition researcher at the University of Connecticut, says, "Hemp seeds are rich in omega3 fatty acids, which reduce your risk of heart disease and stroke." According to an article in Men's Health, written by Carolyn Kylstra on 9/25/12, a 1-ounce serving of the seeds provides 11 grams of protein, not to be confused with incomplete protein found in most plant sources. The article's research found the protein in hemp seeds to be comparable to that found in meat, eggs, and dairy.
If hemp food is easily digested and in turn can be used to treat malnourishment, why such a bad rap? Why not mass produce since the consumption of complete proteins is necessary for human survival? The US Government's complacency of 'profit before health' can no longer stand on the incredulous foundation on which it was built. The American people are, indeed, waking up.