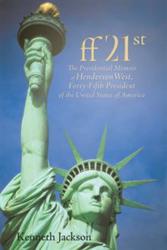 "From this point forward, as Americans, we will truly change the world. So get ready, as we start right now."

President Henderson Francis West

Inauguration Address
Washington, D.C.
January 20, 2013
Nova Scotia (PRWEB) November 07, 2012
Henderson West was elected with 55.1% of the popular vote and received the highest number of individual votes ever in the history of presidential elections in the USA. That 55.1% of the popular vote represented over eighty million American citizens. This represented a tremendous mandate and an over-whelming personal vote of confidence from the American electorate.
…excerpt from page 37 of ff21st http://ff21st.blogspot.ca/
Thus was the beginning of Henderson West's tenure as the 45th President of the United States of America. http://www.ff21st.com/
In his book "ff21st: the Presidential Memoir of Henderson West, 45th President of the United States of America" (ISBN 978-1-4759-5423-4), Kenneth Jackson tackles the issues of our modern world that inhibit modern day government, business and culture. Further, he develops completely valid solutions to the most complex topics.
In 2043, thirty years after taking the oath of office on January 20, 2013, Henderson West analyzes how he came to be president and reflects on his accomplishments during his two terms. West credits his success in helping America regain its leadership position in the modern world to his groundbreaking thinking, his nonpartisan approach and his ability to modernize the institutions of the United States. Some of his accomplishments include repurposing the legal system, the purchase of eastern Canada, the use of military force and his "New Freedom Initiative."
West shares how his imagination, ideology and tenacity led to a new and superlative attitude and perspective for Americans – one that gave birth to the era of "Engaged Democracy as the guiding principle for good government and American freedom. West, considered a founding father of the twenty-first century (ff21st) narrates the story of how his insight and vision changed America and has inspired the spirit and enthusiasm we came to embrace.
"For America to maintain its leadership position in the world, requires altering it`s culture and imagining institutions that are relevant for the twenty-first century," Jackson says.
"ff21st" is available for sale online at Amazon.com and other channels.
About the Author:
Kenneth Jackson earned a Bachelor of Arts degree in political science and an MBA in international management from SMU. He is a twenty-year veteran of the advertising and marketing industries and has worked internationally with several of the world`s largest advertising agencies. Jackson has lived in Singapore, Prague and Toronto. An avid hockey goaltender, guitar player and traveler, Jackson is retired and lives in Nova Scotia.
MEDIA CONTACT
Kenneth Jackson
Email: kjacksoncan(at)gmail(dot)com
Phone: (902) 667-3721
INTERVIEWS ARE AVAILABLE