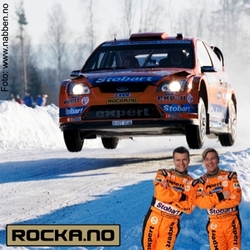 [It's] a lifetime opportunity, and people from every country are eligible to enter
Sarpsborg, Norway (PRWEB) March 20, 2009
The 2009 World Rally Championship is made up of a series of three day events driven on a variety of surfaces and ending in an award winning driver and manufacturer team. Henning Solberg made a splash at the 2008 World Rally Championship driving the new optimized Ford Focus RS as part of the Stobart VK M-Sport Ford Rally Team.
ROCKA, who is sponsoring both Solberg and Cato Menkerud in this season's World Rally Championship, will be giving the passes away through their website. All racing fans have to do to enter the competition is answer three simple questions at the company's website rocka.no, then sit back and wait to hear whether they will be joining Solberg at the next Rally event.
"[It's] a lifetime opportunity, and people from every country are eligible to enter," says ROCKA CEO Matthew E. Alleyne. "Winners will be shown on our website monthly."
The next leg of the 2009 World Rally Championship will take place April 1 at the Rally de Portugal, followed by rallies in Argentina and Italy.
Since the beginning ROCKA has specialized in offering its customers modern and custom made furniture at low prices. The company, which built its reputation on high quality furniture and personal relationships with its customers, is preparing to open ten new dealer owned stores throughout Norway by the end of 2010.
"Our focus is on happy customers that shop from us year after year," states Alleyne. "(We're) a solid company, with good vision and goals."
For more information, visit ROCKA on the web or contact company CEO Matthew Alleyne.
###