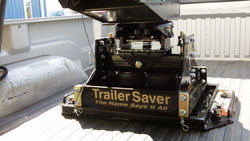 I couldn't believe that for once, not an item in the trailer was out of place.
Davison, MI (PRWEB) November 8, 2010
Hensley Mfg. announced the newest addition to its 5th Wheel Hitch line, the TrailerSaver BD3 Air-Ride hitch. The BD3 is easily removed from the bed of any pickup truck in two sections, yet offers the comfort of a heavier air-ride hitch. Engineered by Hensley Mfg., makers of the famous Hensley Arrow anti-sway hitch for travel trailers, the BD3 is the first air-ride hitch designed specifically for ease of installation and removal.
Watch a short video here to see how quickly the BD3 installs into a pickup truck bed.
The BD3 fits onto standard rails or into most under bed mounting systems, including the new Ford under bed system with the optional adapter plate. Hensley Mfg. also offers the TS3 air-ride hitch, built for the full-timer or anyone who tows extensively.
Call Hensley Mfg. at 1-800-410-6580 for details and pricing, or e-mail Aaron(at)hensleymfg(dot)com.
###