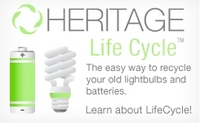 Having a simple way to recycle batteries and lightbulbs without the hassle and huge expense just makes it that much easier to do the right thing.
Indianapolis, IN (PRWEB) January 27, 2010
Heritage has developed a variety of customized programs over time to help customers manage small amounts of waste generated from multiple locations over a wide geographic area. These programs have greatly improved customers' environmental compliance and reduced their current and future liabilities. The Lifecycle Mailback Program is no different. Speaking about the new program, Holly Gamage, Vice President said, "Heritage is excited to extend its product offerings onto the Internet making our services easier to use and increasing accessibility. This new offering will allow customers to lower the total cost of their universal waste disposal programs."
Universal wastes are commonly used items that, when disposed, are not classified as hazardous waste, but they do contain materials that should not be released into the environment. Lightbulbs and batteries are two of the most common types of universal waste.
The Lifecycle Mailback Store provides simple on-line ordering and payment for containers that may be used for your battery recycling and fluorescent lamp recycling or other mercury-containing lamp recycling needs. Pricing is all-inclusive of the containers, shipping, instructions, and recycling of the batteries and lightbulbs. For larger quantities of lamps or ballasts, Heritage offers competitive pricing, containers, documentation, and nationwide service coverage for bulk pick-ups.
"Being able to provide not only our customers but the general population with a responsible and safe outlet for their universal waste is a huge accomplishment. Recycling in my home is a family effort; our recycle bins now outnumber our trash bins and that is a great feeling. Having a simple way to recycle household batteries and lightbulbs without the hassle and huge expense just makes it that much easier to do the right thing," said Darci Ackerman, Vice President of Sales and Marketing at Heritage.
The Lifecycle Mailback Store will periodically offer additional items such as the current RCRA TCLP Testing Special for the characterization of wastes. Future plans for the Lifecycle Mailback Store will include the ability to purchase containers for recycling e-scrap and mercury containing devices, in addition to offering Conditionally Exempt Small Quantity Generators (CESQGs) a secure way to dispose of consumer packaged pharmaceutical waste.
About Heritage Environmental Services:
Heritage Environmental Services, LLC is one of the country's largest full-service environmental firms. Headquartered in Indianapolis and with locations throughout the United States, Heritage is a company that has been providing sustainable solutions for some of yesterday's and today's most challenging environmental problems since 1970. Heritage works with companies across many industries, offering a variety of services such as waste treatment & disposal, a nationwide transportation network, laboratory testing, industrial maintenance, lab pack, product recovery, product manufacturing and byproduct management.
###