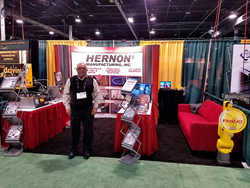 Our next generation of structural adhesives will play an important role in our clients' success!
SANFORD, Fla. (PRWEB) October 09, 2018
Hernon Manufacturing, a global producer of world-class adhesive, sealant and impregnation solutions along with UV LED curing and precision dispensing systems for nearly four decades, will introduce its latest generation of flexible epoxies and adhesive solutions for industrial applications during The Assembly Show, October 23-25, 2018 at the Donald E. Stephens Convention Center, Rosemont, IL, Booth 443. "Heron is excited about our prospects for the coming year, and we believe our next generation of structural adhesives will play an important role in our clients' success," said Edgardo Rodriguez, Director of Sales and Marketing for Hernon Manufacturing.
The Assembly Show is a trade show where suppliers, buyers and users of assembly equipment in manufacturing plants can meet and explore all things assembly. More than 300 exhibiting companies will join Hernon at the exhibit hall, where participants test-drive state-of-the-art technology and equipment.
New to the show this year are four free guided exhibit hall tours, held on Thursday, October 25. Hernon was recently selected as a stop during the tour's Adhesives segment, so between the hours of 10:15 a.m. to 10:45 a.m., participants will enjoy an overview of the company's products and solutions.
Hernon Manufacturing exports high-performance adhesives, sealants and coatings as well as precision dispensing equipment and UV curing systems throughout the globe. A longtime member of Central Florida's industrial manufacturing community, Hernon Manufacturing provides solutions for a variety of industries including: Energy and Power Generation, Medical, Electronics, Electrical, LED, Automotive, Appliances, Sporting Goods, Ammunition, Communications, Aerospace, Aviation, High Tech Audio, Defense, Fire Suppression, Transportation, Marine Manufacturing and more, with products proudly made in the United States.
Hernon's experts will provide demonstrations of products during The Assembly Show. Visit Hernon at Booth 443 to learn how the adhesive and dispensing solutions can improve productivity and reduce waste. Or visit http://www.hernon.com, or email at sales@hernon.com.