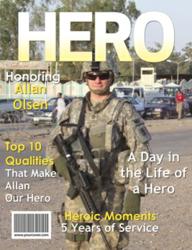 All of the receivers were astonished that something of this quality could be made and in their honor. I've also found that people [...] were so appreciative to know that someone would notice their good work and that you care about them.
Wilton, CT (PRWEB) September 28, 2012
Thanking a hero by words alone is sometimes not enough to express the gratitude felt. Actually being able to cite the efforts made and the accomplishments achieved is more in line with the feelings that wish to be trumpeted out to the world about how much this particular hero has contributed.
The newly introduced "Hero" personalized magazine cover from YourCover gives consumers the opportunity to let everyone know how very special their hero is. The online magazine cover generator is easy to use. The first step is to choose an appropriate magazine cover template, in this case, "Hero". Next a photo is uploaded to the template and each headline can then be personalized with the name as well as the specific heroic efforts of the person now appearing on the magazine cover.
The Hero personalized magazine cover is much more than a fake magazine cover because it includes so much more than just a photo. With the detailed information about important events, actions and memories, the Hero magazine cover is a completely unique and personalized gift that will thrill the recipient and be kept for years to come as a testament to the admiration of their contribution.
Affordably priced, the magazine cover can be purchased as a photo file download for instant self-printing (great last minute gift idea). However, YourCover can also print and frame the magazine cover plus other items for displaying the magazine cover include canvas prints, posters, t-shirts, mugs and more.
A hero does not have to be an official service member, a hero can be a teacher, a good friend, a volunteer or a cancer survivor. Bravery and loyalty in the face of adversity deserves recognition, the Hero personalized magazine cover created at http://www.YourCover.com is a unique gift idea for bestowing that recognition.