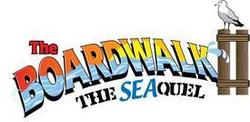 Heat Up With Fahrenheit and Cool Down With The Boardwalk at Hersheypark.
Hershey, PA (Vocus) July 1, 2008
For its 2009 season, Hersheypark will offer guests two new ways to keep cool in the lazy, hazy days of summer. Due to its overwhelming popularity, The Boardwalk at Hersheypark, which opened during the Park's 2007 Centennial season, will expand.
The Boardwalk at Hersheypark: The SEAquel will make a splash in 2009, bringing two new attractions, "The Shore" and "Intercoastal Waterway," to the 110-acre, world-class amusement park in central Pennsylvania.
The Shore, a nearly 378,000-gallon wave pool, will blend fresh and filtered water to simulate the ocean's currents. Offering a moderate surf experience ranging from zero-depth entry to a maximum four-foot depth, The Shore will accommodate guests of all ages, who can splash, play and jump the waves under the watchful eyes of trained lifeguards.
For people who enjoy a more relaxing water experience, Intercoastal Waterway is a "lazy river"-style attraction inspired by the smooth boating passages of the East Coast. The gentle and lapping currents will offer more than 450,000 gallons of smoothly flowing water in more than 24,000 square feet of surface area. With a uniform water depth of two and a half feet, Intercoastal Waterway will give guests the opportunity to float along on individual rafts at an easy pace.
Also new for the 2009 season are 27 private rental cabanas exclusively for Hershey Resorts guests, additional restroom and locker facilities, a restaurant, two food kiosks, two retail outlets, and lounging space.
Overall, the new area will be able to accommodate approximately 4,000 guests at a time.
With the addition of The Shore and Intercoastal Waterway and the inclusion of longtime favorite rides Roller Soaker and Tidal Force, the five water-based attractions that currently comprise The Boardwalk at Hersheypark will expand to nine unique offerings in a distinctive water-play area. The area pays tribute to the boardwalks and beaches of the Northeast and allows Park guests to combine two favorite summer activities - a day at an amusement park and a trip to the beach. Admission to the entire area is included in the one-price admission to Hersheypark.
The Boardwalk at Hersheypark: The SEAquel marks the third major attraction at Hersheypark in as many years. Last year the Park's Centennial season brought guests The Boardwalk at Hersheypark. This year the Park debuted Fahrenheit, a vertical-lift, inverted-loop roller coaster that offers the steepest drop of any coaster in the United States and invites guests to "Heat Up With Fahrenheit and Cool Down With The Boardwalk at Hersheypark." Park officials will continue to deliver on guest expectations in 2009 with the debut of The Shore and Intercoastal Waterway, offering even more water and more fun in the sun.
For more information, please visit Hersheypark.com or call 1-800-HERSHEY or http://www.hersheypark.com
###