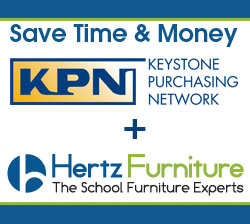 Our relationship with KPN will allow us to continue to offer premium products at the lowest possible prices.
Mahwah, NJ (PRWEB) April 23, 2013
Hertz Furniture, the premier school and office furniture supplier, has been named the exclusive office and school furniture contract vendor for the Keystone Purchasing Network (KPN). In a new video, Hertz Furniture Marketing Coordinator Carli Bushoven describes the benefits of using KPN and the special relationship between Hertz Furniture and KPN.
KPN is a national purchasing program established specifically to comply with individual state purchasing guidelines. Every KPN contract has already gone through a competitive and public bid process and is pre-approved by nearly all state agencies. Working on behalf of its members, KPN secures volume pricing contracts for products and services at the lowest rates. That means that members don't have to waste their time going to bid. All they have to do is join KPN for free and start saving.
As the sole furniture contract vendor, Hertz Furniture offers KPN members significant savings in time and money, benefiting from low prices without having to go through a local bid process. Over 7,000 Hertz Furniture quality products are available at deeply discounted prices, including school furniture, office and reception furniture, and church furniture. Hertz design services and freight are also included in the low contract price, and members enjoy Hertz Furniture's complimentary extended warranties, including its Limited Lifetime Warranty.
Besides furniture, KPN also has low, pre-negotiated contract pricing on everyday products and service like School and Office Supplies from Staples Advantage, Library Supplies, Document Management Services, Janitorial Supplies and Food Service Equipment. Also available are contracts for Commercial Flooring, Power Cleaning Equipment, Bathroom Partitions, Sport Surfaces and many others.
KPN serves K-12 Public School Districts, Nonpublic Schools, Charter Schools, Libraries, Colleges and Universities, Career and Technical, Local Municipalities, Counties and Government, as well as other Tax-Exempt Non-Profit Organizations. There is no fee to join KPN and no obligation to purchase. Members always have access to full bid documentation as needed.
To find out more, visit the Hertz Furniture website, watch the video, enroll, and start saving.
"We are excited and extremely honored to be an exclusive vendor for KPN," says Hertz Furniture President Saul Wagner. "We are proud of our longstanding partnership with the educational community and other non-profit organizations, and our relationship with KPN will allow us to continue to offer premium products at the lowest possible prices."
About Hertz Furniture:
For over 45 years Hertz Furniture has supplied schools, religious institutions, businesses and government offices with top quality commercial furniture and superior customer service. Speedy Quotes, Quick Ship products, a wide selection of Eco-Friendly furniture, a free Project Planning and Design service and the best warranties in the industry are just a few of the ways that Hertz Furniture provides added value to its customers. For additional information on Hertz Furniture and its extensive line of products, please visit Hertz Furniture, speak to a furniture specialist at 888-802-6549, or send an email to jonathanyunger(at)hertzfurniture(dot)com.