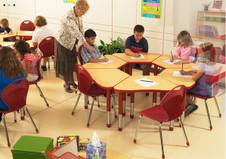 Our Design Team will work hand-in-hand with the lucky winner to plan and design a productive learning environment...
Mahwah, NJ (PRWEB) March 12, 2013
Hertz Furniture, the premier school and office furniture supplier, is launching a sweepstakes on the popular teacher website, We Are Teachers. The contest offers teachers an opportunity to win a cool classroom makeover and create the classroom of their dreams. Contestants must sign up by April 17, 2013. The grand prize winner, chosen by random drawing, will be announced on April 26, 2013.
Up for grabs is up to $10,000 worth of new classroom furniture from Hertz Furniture. The winner of the We Are Teachers Sweepstakes will choose from a wide selection of student desks and chairs by Academia Furniture, teacher desks and chairs by OFM, whiteboards by Aarco, and classroom storage by Sandusky Lee. Furniture will be delivered free of charge throughout continental USA. The prize does not include installation fees or taxes.
To enter the sweepstakes, teachers should visit the contest page on the WeAreTeachers website and click on the "Sign Up Today" button to fill out the form. In addition to featuring monthly contests and sweepstakes, the website is teachers' one-stop shop for curriculum ideas, favorite resources, teaching tips, and more. The site also presents hot topics in education, offering teachers timely and relevant information as well as seasonal suggestions they can implement in their classrooms right away.
Research has proven time and time again that a well-designed classroom has a positive influence on both student learning and behavior. Hertz Furniture's premium selection of school furnishings offers the latest in ergonomic classroom furniture. Hertz Furniture also provides free design and layout assistance to further optimize the classroom.
"We are pleased to celebrate great teachers by offering them a chance to win a complete classroom makeover," says Hertz Furniture President Saul Wagner. "Classroom layout is known to have a profound effect on how students concentrate, learn, and behave. Our Design Team will work hand-in-hand with the lucky winner to plan and design a productive learning environment which meets the needs of students, teachers, and the tasks at hand."
About Hertz Furniture:
For over 45 years Hertz Furniture has supplied schools, religious institutions, businesses and government offices with top quality commercial furniture and superior customer service. Speedy Quotes, Quick Ship products, a wide selection of Eco-Friendly furniture, a free Project Planning and Design service and the best warranties in the industry are just a few of the ways that Hertz Furniture provides added value to its customers. For additional information on Hertz Furniture and its extensive line of products, please visit Hertz Furniture, speak to a furniture specialist at 888-802-6549, or send an email to jonathanyunger(at)hertzfurniture(dot)com.