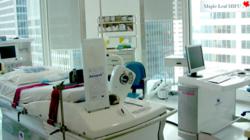 I think HIFU is a very safe and effective treatment option that should be considered by all men with organ confined prostate cancer.
Toronto, Ontario (PRWEB) March 08, 2012
A new prostate cancer treatment study conducted by urologists in Canada has just appeared in pre-publication e-form in the British Journal of Urology (International). The study represents the largest North American collective study to assess 4 year results for male prostate cancer patients treated with High Intensity Focused Ultrasound. HIFU is used to treat prostate cancer in an out-patient procedure and available as an alternative to the traditional treatment methods of surgery or radiation.
Prostate cancer is the number one cancer affecting men in North America, with 1 in 7 developing the disease. Prostate cancer is the second leading cause of cancer deaths and the chance of getting the disease increases with age.
HIFU is a non-invasive treatment option where ultrasound waves are delivered through a computer controlled rectal probe. The ultrasound waves increase the temperature within the prostate to 85 degrees Centigrade, destroying the tissue with minimal or no damage to surrounding tissues and organs. The procedure is intended to treat men with organ confined prostate cancer of stages T-1 or T-2. HIFU has been an approved treatment method in Canada since 2003, and is widely used in Europe, where most of the research data has originated. The procedure is not yet available in the United States, but is currently being tested by the FDA.
In this new study, over 400 consecutive patients were treated with HIFU between May 2005 and December 2010. All patients were treated at the Maple Leaf Clinic in Toronto with one single HIFU session. Treatment was done by 7 noted urological surgeons and authors of the study, with data collected prospectively.
Follow-up tests, including prostate-specific antigen (PSA), were conducted on patients who were measured at regular intervals over 6-48 months after the procedure. The results show that HIFU as a primary treatment had promising 4 year biochemically cancer free rates in low and intermediate risk prostate cancer patients. The study used two definitions of biochemical failure that have the ability to predict longer-term clinical failure.
Dr. William Orovan is the Medical Director of Maple Leaf HIFU, and the study's senior author. Dr. Orovan, a urological surgeon, professor and medical ambassador, explains, "I think HIFU is a very safe and effective treatment option that should be considered by all men with organ confined prostate cancer. I was proud to be part of the collaborative research team involving heads of surgery from McMaster University, the University of Toronto and Scarborough General Hospital.
Although there is extensive research and data on Ablatherm HIFU in Europe, this was the largest study conducted in North America. Our results showed conclusive treatment success with HIFU over the short and longer term, similar to results from European studies."
HIFU has grown in popularity, particularly with younger patients and those who are not candidates for surgery. HIFU has also been used to treat patients who failed radiotherapy treatment. HIFU helps preserve patients' quality of life and results in fewer significant side effects, including incontinence and impotence.
Additional HIFU prostate cancer treatment research articles and abstracts are available on the website. The full study can be found in the British Journal of Urology 2012. For more information on the HIFU prostate cancer treatment or on Maple Leaf HIFU, please visit http://www.HIFU.ca.