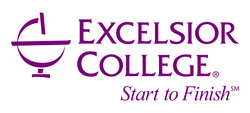 Campus leadership is committed to giving veterans a voice and as a result, Excelsior consistently delivers timely and relevant support.
Albany, NY (Vocus) July 31, 2009
Excelsior College, a national leader in higher education for military members and veterans since the 1970s, has added specially-trained outreach staff and streamlined services to meet anticipated growth in demand for education benefits provided by the Post-9/11 GI bill. The bill takes effect Aug. 1.
Thirty-three percent of Excelsior's 32,000 enrolled students are veterans and members of the military, and the College has established an unparalleled track record in meeting the academic and financial needs of this important group of adult learners. An accredited, nonprofit institution, Excelsior is a recipient of the prestigious Institutional Award from the Council of Colleges and Military Educators (CCME), and has twice been named among the top military-friendly Colleges by Military Advanced Education magazine.
A recently released study by the American Council on Education, ''From Soldier to Student: Easing the Transition of Service Members on Campus'', underscores the need for key academic and support services for military students returning to College, or those seeking higher education for the first time.
"Excelsior College continues to distinguish itself in serving our nation's military service members through innovative approaches and strategic engagement," said James Selbe, assistant vice president for lifelong learning at the American Council on Education. "Campus leadership is committed to giving veterans a voice and as a result, Excelsior consistently delivers timely and relevant support."
Most of the services described in the ACE report have been in place at Excelsior College in its distance-learning environment for many years.
Specifically:

Excelsior is among a minority of private, nonprofit colleges with comprehensive services for military members, veterans and their families, through its Center for Military Education.
To address the GI Bill's expanded benefits, Excelsior has added a veterans' services and outreach coordinator to augment existing support services.
Excelsior offers ''Strategies for Veterans' Success in College,'' a 3-credit online course in career planning and professional development designed specifically for active duty service members, reserve personnel, veterans and others in transition.
Excelsior offers over 30 certificate, associate, bachelor's, and master's degree programs -- including two associate programs designed specifically to advance the careers of service members.
Excelsior has established a Military Spouse Scholarship program for the spouses of enlisted personnel.
Military students and veterans receive guidance from dedicated academic advisors, many of whom are former members of the military.
On the financial side, military and veteran students already qualify for tuition reductions and certain fee waivers established by the College and Excelsior's financial aid personnel are experts in the field of military education benefits.
In addition:
Excelsior has formal education agreements with all branches of the U.S. Armed Services. Many of Excelsior's military students are pursuing degrees while stationed abroad in areas of conflict.
Excelsior College military students have a course completion rate of 95 percent, the highest among various student groups.
The typical military student is in his/her 30s or 40s and is approaching military retirement age, preparing for the civilian workforce.
Excelsior College http://www.excelsior.edu is an accredited, nonprofit distance learning institution that focuses on removing obstacles to the educational goals of adult learners. Founded in 1971 and located in Albany, NY, Excelsior is a proven leader in the assessment and validation of student knowledge. It offers more efficient and affordable access to degree completion through multiple avenues: its own online courses and college-level proficiency examinations, and the acceptance in transfer of credit from other colleges and universities as well as recognized corporate and military training programs. Excelsior College is accredited by the Commission on Education of the Middle States Association of Colleges and Schools.
###