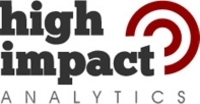 "A number of analytics products are available for large suppliers," says James Harris, president and co-founder of HIA. "But they're prohibitively expensive for all but the largest companies. HIA is a subscription service, with no large upfront investment
Bentonville, Ark. (PRWEB) December 16, 2010
High Impact Analytics® (HIA) (highimpactanalytics.com), introduces the industry's first real-time software technology reporting suite that gives small- and mid-size consumer package goods suppliers the business intelligence tools to help them work more effectively and profitably with Walmart and Sam's Club.
The suite combines advanced analytics and reporting capabilities with turnkey functionality. Using the Software as a Service model, the business analytics platform is maintained and updated by HIA and made available on-demand to customers via the internet or other network options. No additional hardware is needed and global access streamlines collaboration. Elements of the suite include:
Online Reporting Tool
The HIA Online Reporting Tool enables suppliers to bypass the time-consuming task of gathering data from multiple sources. Dashboard-customized, integrated data reports and charts are delivered at the click of a mouse so users can focus on trend analysis and respond quickly to market and product performance.
Customized Alerts
Users can establish customized alerts for every step of the supply chain, drilling down to the store and SKU level.
Store-Specific Order Tool
By selecting desired parameters, suppliers can have real-time, store-level scripts in minutes.
Demand Planner
One-click replenishment demand updates provide greater detail and accuracy, facilitating rapid response to market events.
Intuition®
Intuition eliminates hours of data investigation by providing comprehensive dashboard reports using supplier-defined metrics—including national through SKU performance data, demographic trends, promotion analytics and other metrics crucial to supplier success.
The cost-effective HIA analytics suite levels the playing field for small- and mid-tier suppliers by providing analytics and reporting capabilities heretofore available to only the largest manufacturers.
"A number of analytics products are available for large suppliers," says James Harris, president and co-founder of HIA. "But they're prohibitively expensive for all but the largest companies. HIA is a subscription service, with no large upfront investment, licensing agreement or add-on fees. The cost to users is typically about 10 percent of similar products," Harris says.
HIA was co-founded by long-time industry experts, James Harris and Matt Fifer. The company's development teams comprise experienced analysts, replenishment managers, sales professionals and software developers. The generation of new capabilities and products is ongoing.
"Our goal is to enable small- to mid-size manufacturers to use data-based, strategic management practices every step of the supply chain. This will help them establish a longer term and more profitable relationship with Walmart and Sam's Club," says company co-founder, Matt Fifer.
High Impact Analytics is headquartered at 105 SE 22nd St, Suite #7, Bentonville, Arkansas, 72712. Phone 479-957-2188 or visit highimpactanalytics.com.
# # #