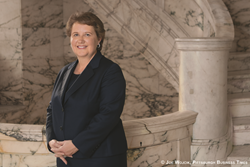 She has been pivotal in the growth and stability of Highmark Health, and will continue to be instrumental as we transform health care.
PITTSBURGH (PRWEB) November 08, 2018
Karen L. Hanlon, executive vice president, chief operating officer and chief financial officer of Highmark Health was named a "2018 CFO of the Year" award winner in a ceremony hosted by the Pittsburgh Business Times on Nov. 7. The award recognizes Hanlon for her outstanding corporate financial stewardship.
A certified public accountant and member of the finance team since 1997, Hanlon has served as Highmark Health's CFO since 2014 and was additionally named its chief operating officer in July 2018. In addition to having oversight of the corporation's financial success, Hanlon oversees its long-term operations as it focuses on bringing transformational value-based care to customers and growing beyond traditional health care models and core markets.
"Karen Hanlon's recognition as a CFO of the Year is well deserved," said David L. Holmberg, president and CEO of Highmark Health. "On behalf of our more than 40,000 employees, we thank Karen for her superb financial stewardship. She has been pivotal in the growth and stability of Highmark Health, and will continue to be instrumental as we transform health care in western Pennsylvania and nationally through the Highmark Health Plan, Allegheny Health Network, United Concordia Dental, Visionworks and our other businesses."
In addition to serving on the executive leadership team at Highmark Health, Hanlon sits on the board of directors of Gateway Health and Penn State Health and previously served on the boards and as treasurer for the Big Brothers Big Sisters of Greater Pittsburgh and Leadership Pittsburgh. She is a 15-year member of the Pennsylvania Institute of Certified Public Accountants.
"I've had the benefit of working on some of our most significant strategic initiatives at Highmark, Allegheny Health Network, and Highmark Health," said Hanlon. "This gave me the opportunity to be connected directly to our various businesses and to build relationships throughout the organization. The knowledge I gained and the relationships built through this work were critical in preparing me to become CFO.
"The array of topics I work on in a given day goes beyond what I ever thought I would do," Hanlon added. "I'm fortunate to be working for a progressive, growing company. This has afforded me the opportunity to work on some pretty exciting things, and I look forward to continuing to work with all of my colleagues as we successfully transform health care."
About Highmark Health
Highmark Health, a Pittsburgh, PA-based company, that, together with its subsidiaries and affiliates, collectively employ more than 40,000 people and serve millions of Americans across the country, is the second largest integrated health care delivery and financing network in the nation based on revenue. Highmark Health is the parent company of Highmark Inc., Allegheny Health Network, and HM Health Solutions. Highmark Inc. and its subsidiaries and affiliates provide health insurance to nearly 5 million members in Pennsylvania, West Virginia, and Delaware as well as dental insurance, vision care and related health products through a national network of diversified businesses that include United Concordia Companies, HM Insurance Group, and Visionworks. Allegheny Health Network is the parent company of an integrated delivery network that includes eight hospitals, more than 2,400 affiliated physicians, ambulatory surgery centers, an employed physician organization, home and community-based health services, a research institute, a group purchasing organization, and health and wellness pavilions in western Pennsylvania. HM Health Solutions focuses on meeting the information technology platform and other business needs of the Highmark Health enterprise as well as unaffiliated health insurance plans by providing proven business processes, expert knowledge and integrated cloud-based platforms. To learn more, please visit http://www.highmarkhealth.org.