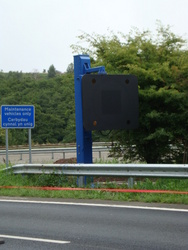 FLI installs Screw Pile foundations for innovative AMI sign
(PRWeb UK) January 25, 2011
FLI Structures, the UK's market leader in the design and manufacture of Screw Pile foundations and associated structures, is delighted to announce the recent completion of Advanced Message Indicator sign foundations on the M4 Newport VSL Scheme for Balfour Beatty Regional Civil Engineering (BBRCE).
The foundation design was carried out by FLI's in house engineers, who developed a leaner and more efficient screw piled design compared to traditional designs used to support similar highways structures.
The AMI sign foundations require a single 244mm screw pile, taking tension and compression loads, supporting the structure weighing approximately 250kg.
Approval in Principle and Departures from Standard have been granted by the Welsh Assembly Government, demonstrating a minimum 60 year design life.
Site works were carried out in June, where FLI's own in house installers, carried out the installation of the screw piles, with the structures being lifted into place soon after by BBRCE team.
Due to limited site access, installation took place at night, with temporary lane closures to minimise impact on motorists. This proved to be an efficient method and helped in the prompt completion of the project, compared to traditional foundation methods.
There was no daytime lane disruption. Concrete curing time was avoided, enabling the works to be completed quicker than usual. Also, there was no spoil to remove from site.
This contract has provided FLI with more experience in the highways market, as well an opportunity to work closely with BBRCE.
FLI is successfully designing helical pile solutions for a vast array of structures widely used by Network Rail, Highways Agency and the Welsh Assembly Government including passively safe highways structures, portal gantries, cantilever gantries, signs, platforms, CCTV structures, etc.
Tony Parker, Sales Manager at FLI comments "Our success with Network Rail, Highways Agency and now the Welsh Assembly Government is based on understanding and solving site problems efficiently, with safe solutions in mind for our installers.
With a strong focus on innovation, we are able to supply foundation solutions to support a wide range of structures in both railway and highways markets. We take experience from each site and use this knowledge to continue to lead the way in the screw pile foundations sector."
FLI were delighted to work with the Welsh Assembly Government and Balfour Beatty Regional Civil Engineering.
# # #