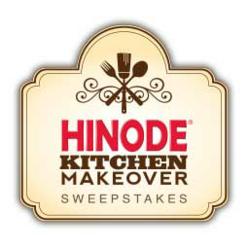 WOODLAND, CA (PRWEB) March 20, 2013
Today, Hinode Rice launched the Hinode Kitchen Makeover Sweepstakes valued at up to $18,000. The sweepstakes, which runs through May 13, is part of a larger promotional campaign designed to increase trial of Hinode's natural, healthy and authentic varieties of rice. Consumers also can download a $1 (one dollar) off coupon good on any of the brand's classic or heat-and-serve products.
The sweepstakes winner may select from a variety of makeover items – including painting, counter tops, cabinets, appliances, and flooring – to customize the grand prize for an updated kitchen that best meets their needs and personal tastes.
"We want to reward and encourage the creative and healthy meals our customers create with our products by providing them a chance to win their dream kitchen," said John Koury, vice president of sales and marketing for Hinode.
From classic Long Grain White and Calrose Medium Grain to convenient heat-and-serve Brown and Jasmine varieties, as well as Black Rice and the newly introduced Sprouted Brown, Hinode offers one of the most extensive and exotic lines of rice on the market.
Find the Sweepstakes on Facebook and in Mobile
The sweepstakes and official rules are housed on the Hinode Rice Facebook Fan Page (facebook.com/hinoderice), where visitors also can print a coupon for $1 off Hinode products. Participants are not required to "Like" the fan page to be eligible for the sweepstakes or to print the coupon, but they will benefit from following Hinode Rice by gaining access to exclusive content and offers. Participants may submit one entry per calendar day through May 13, enabling a possible 57 entries per person.
In addition to accessing the sweepstakes through Facebook, consumers can enter by visiting hinodekitchenmakeover.com – a mobile-friendly website that does not require a personal Facebook profile.
Availability of Hinode Rice
Hinode Rice is available nationwide at grocery retailers including Walmart Supercenters, Safeway, and Kroger. Visit the Hinode store locator at hinode.com to find regional availability.
About HINODE Rice
Established in the 1934, the HINODE brand is owned by SunFoods, LLC with headquarters in Woodland, California. SunFoods, LLC was formed in October 2008 as a joint venture between Australian-based Ricegrowers Limited (trading as SunRice) and local California rice farmers. SunFoods, LLC recently expanded distribution of its HINODE branded rice products throughout the U.S. Find more about SunFoods, LLC and HINODE Rice products online at HinodeRice.com, facebook.com/HinodeRice and twitter.com/HinodeRice.
Contact:
Shelly Atkinson
Marketing Manager
SunFoods, LLC
Mobile 530.665.3075
satkinson(at)sunfoodsllc(dot)com