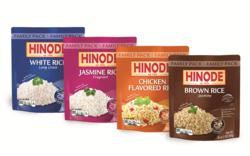 By making whole grain preparation fast and convenient, we anticipate microwavable whole grain rice will continue to take market share from standard white rice.
Woodland, CA (PRWEB) November 14, 2012
SunFoods,LLC announced the launch of their new Hinode Rice family size microwavable pouches today for retailers nationwide. This month, Wal-Mart and Safeway are two of the first grocery chains to offer the new Hinode Rice family size microwavable rice line. With a full pound of pre-cooked rice, Hinode Rice makes meal preparation quick and easy for busy families. It's ready in just two and a half minutes. Three varieties will be offered this November including: Whole Grain Jasmine Brown Rice, Fragrant White Jasmine Rice and Chicken Flavored Rice.
"Microwavable rice consumption continues to grow in Western countries where the population consumes a wide range of carbohydrates," states Matt Alonso, President and CEO of Hinode Rice. He adds, "The average consumption of rice is approximately 25 pounds per person per year in the U.S. compared to nearly 400 pounds per year in Eastern countries." As the multi-cultural population continues to grow in the U.S., Americans are gaining direct experience with cuisines and rice varieties from around the world. The rice used in Hinode microwavable pouches is traditionally prepared so consumers can depend on Hinode Rice for an authentic texture and taste every time they try a new recipe from a different culture.
Hinode Rice is dedicated to growing whole grain consumption in the U.S. by offering convenient microwavable whole grain rice products in a range of package sizes. Increasing whole grain consumption has been a trend for the past five years according to reports from the USA Rice Federation which indicate shipments of brown rice rose 31% from 2007 to 2011 (USA Rice Domestic Usage Report for the Milling Year August 1, 2010-July 31, 2011). At the same time, Nielsen Scantrack data indicates a 98% increase in brown rice dollar sales between 2006 and 2011 in the United States (http://westernfarmpress.com/rice/whole-grain-food-sales-projected-26-billion).
"By making whole grain preparation fast and convenient, we anticipate microwavable whole grain rice will continue to take market share from standard white rice," states John Koury, VP of Sales and Marketing for Hinode Rice. He continues, "Many consumers start eating whole grains for their digestive health and in the process develop a preference for the texture and taste."
Hinode Rice fully supports the USDA recommendations to "make half your grains whole." "Making healthy choices also needs to be practical," explains Amber Stott, food blogger based in the Central Valley of California. "I make dinner from scratch most nights, and I love that I can grab a packet of microwavable brown rice after a long day of work to make a nutritious meal in minutes." Amber Stott shares one of her favorite recipes from travels in Ecuador using Hinode Microwavable Brown Jasmine Rice: Ecaudorian Fish Baked in Corn Husks with Hinode Rice.
About SunFoods, LLC
SunFoods, LLC is headquartered in the rural town of Woodland, where farmers in the Central Valley of California produce approximately 500,000 acres of rice each crop year. The Hinode Rice brand was established by a co-op of rice farmers in 1934. The co-op grew medium grain rice that was sold to the Pacific Islands during the Second World War. SunFoods, LLC continues the tradition of producing Hinode medium grain rice known in the Northern California region as Calrose rice. Hinode Rice also imports premium varieties of rice and convenient microwavable products from rice growing regions around the world. Find Hinode Rice online for more information about their products and recipes.