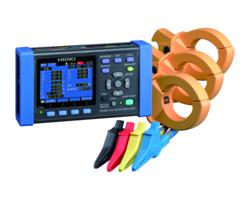 Nagano, Japan (PRWEB) March 04, 2013
With power-saving initiatives underway in Japan and around the world, Hioki recognized the growing need for instruments that can be used to maintain electrical equipment and verify energy savings, leading the company to develop a comprehensive solution for electricians and power surveyors.
Despite its compact design, the Hioki Clamp On Power Logger PW3360-20 can record power variations over extended periods of time. An optional SD memory card can be used to record up to one year of measurements at one-minute intervals, providing a useful source of data for verifying energy-saving benefits. Additionally, its broad operating temperature range of -10°C to 50°C, which exceeds that of previous Hioki devices, enables measurement in harsh environments.
The built-in Quick Set navigation feature allows users to start measurement by following a series of step-by-step instructions that walk them through configuring the instrument, making connections, checking connections, and starting recording. In this way, the device can assist in preventing erroneous settings and connections.
Furthermore, an optional clamp leak sensor can be used with the PW3360-20 to measure leak current, and if a clamp leak sensor is used in combination with a power measurement clamp sensor, the instrument can measure power and test for electricity leaks at the same time. Thanks to this expanded range of applications, the new device is poised to fully meet customer needs.
*Extensive measurement capabilities in a compact footprint
*Quick Set navigator helps prevent measurement mistakes
*Leak current measurement and pulse input
*Continuous operation with 3 power supply options
About HIOKI
Established in 1935, Hioki E.E. Corporation (TSE: 6866) is a recognized world leader in providing consistent delivery of test and measuring instruments through advanced design, manufacturing, and sales and services. By offering over 200 main products characterized by safety and quality while meeting an expansive range of applications, we aim to contribute to the efficiency and value of our customers' work in research and development, production and electrical maintenance. HIOKI products and services are available around the world through our extensive network of subsidiaries and distributors. Information about Hioki is available at http://www.hioki.com.