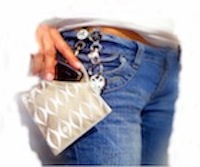 Hip Klip Cell Phone Purse is now available in Canada with no shipping costs.
Miami, FL (PRWEB) March 08, 2013
Nifty-nifty.com, the leading online retailer of nifty, innovative products as seen on TV, is proud to announce that they have extended their Hip Klip Cell Phone Purse program with no cost shipping to Canada. The Hip Klip and Pocket Accessory, Cell Phone Purse has been showcased online and at festivals and was originally created by Audra Coldiron.
"We have sold the Hip Klip Cell Phone Purse for quite some time," explained Wendy Miller, co-owner of Nifty-nifty.com. "What's exciting is that we are one of the very few online retailers to sell the Hip Klip with zero shipping costs to our Canadian customers. Our Canada Hip Klip shipping program has been so successful we are extending it!"
For more information on the Hip Klip, go to:
*http://www.nifty-nifty.com/hip-klip-smart-size-best-handsfree-cell-phone-purse-for-larger-phones-passport-pocket/
Canadian residents are very sensitive to shipping costs, and this enhanced program provides the opportunity to buy the Hip Klip, Pocket Accessory, Cell Phone Purse, at the same low prices as USA citizens and pay no shipping costs. Nifty-nifty prices are better than most Hip Klip coupon offers, and the company prides itself on a "no games" policy of not artificially raising prices on shipping.
About the Hip Klip
HIP KLIP, the amazing cell phone purse and pocket accessory is the hands free solution for carrying cell phones and the essentials. Hip clip attaches to the waistband, is sometimes called a hip clip bag, a hip clip purse, a hip clip pocket purse or hip pouch, and is an ideal cell phone purse which can add a pocket to workout clothes - it's a mini/miniature purse to carry cell phone and the essentials. (People misspell it as hipclip or hipklip as well)  Often called a hip bag or hip purse, this pocket cellphone pouch is the answer 'when all you need are the essentials'. This is Hip Klip and Pocket Accessory - the clip-on mini-purse + key chain.
The product motto is:
NO POCKETS - NO PROBLEM ... NO BELT LOOPS - NO PROBLEM.
The nifty HIP KLIP has an open pocket on one side for a consumer's iphone, and a zipper pocket on the other and is ideal for carrying cell phone and essentials, like money, credit cards, lipstick, keys, camera, insulin pump, inhaler etc, even golf tees, and passports. NO belt loops or pockets required, the KLIP attaches to the waistband of clothes or the side of the purse. Hip Klip is the ultimate iphone purse, the WOW iphone mini-purse, the cell phone wrislet or iphone wristlet that is a functional, practical and unique way to carry your cell phone and essentials and passports.
Customers can buy Hip Klip from Nifty-nifty. Nifty-Nifty.com has free shipping, excellent customer service,
About Nifty-nifty.com
Nifty-nifty.com is the world's leading online retailer of innovative, nifty products. The company specializes in online retailing of products such as the Readerest, Phubby, Cross Body Cell Phone Purses, Hip Klips and other innovative online products at the best prices with no charge shipping in the USA and Canada.
http://www.Nifty-nifty.com
Tel. 858-248-2302