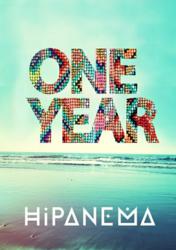 'We are thrilled to celebrate our one year anniversary,' said the Marketing Director for Hipanema.
Los Angeles, California (PRWEB) March 13, 2013
Designer jewelry brand Hipanema announces their one year anniversary. After two successful collections, the brand celebrates their one year birthday with the announcement of a brand new summer collection that will be available in stores May 1st.
The Hipanema summer collection consists of vivacious handmade styles named after popular travel destinations, including Saint-Tropez, Cannes, Santiago and Mexico. These multicolored cuff Hipanema bracelets are handcrafted in Brazil, and feature beautiful beads, seashells and intriguingly-woven ribbons.
"We are thrilled to celebrate our one year anniversary," said the Marketing Director for Hipanema. "Based on the success of the winter collection, we anticipate an even bigger response to our first ever summer collection."
Hipanema came into being after two Parisian girls, Delphine and Jenny, met in Rio. Inspired by the colors seen during their travels, the two young blondes decided to bring back some Brazilian glamour in their suitcases. Designed in France, born in Brazil. This collection is European-inspired, with the flair of South American sensibility and versatile luxury. Handcrafted, with over 32 hours dedicated to each individual piece, this collection compliments bronzed skin and a confident look. Each piece is unique and highlights the special artistic traits of its creators. Stamped on ribbons on each bracelet is a 200 year-old tradition said to bring good luck, "Senhor do Bonfim da Bahia", which means "Souvenir of Our Lord of a good end of Bahia." Mixed with the legendary Copacabana bracelets and the quartz stones with various seashells, these cuffs can be worn double or triple. They retail starting at $58 - $118, and are sold in stores, such as Bloomingdales, Urban Outfitters and Blue Ruby.
For more information, visit http://www.hipanema.com.