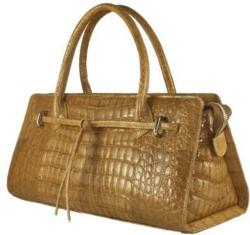 Meticulously handmade exotic leather handbags for hire
London, UK (PRWEB UK) 2 March 2013
The days when ostrich and crocodile handbags were the preserve of only those with deep pockets belongs to the past. Tamarry Handbags brings affordable luxury to the ordinary women in the street with prices starting from £30 to hire a handbag for a week with further savings for those hiring for a fortnight, a month or longer. Fashion-forward middle class women can now afford to fulfill their desires for a luxury experience at a fraction of the recommended retail price.
A wide range of handbags to rent are available to achieve the image desired whether one is mother of the bride, a wedding guest, attending a business meeting, going on a date or honeymoon, partying, trying before buying or looking for an exotic present this mother's day, there is no better way to make a lasting impression.
Ostrich and crocodile handbags from Tamarry Handbags are not mass produced but handmade with love and are exclusive as no two exotic leathers have exactly the same scale or quill pattern. The craftsmen have perfected their art over the past three decades and are masters of their trade. With due care and attention, it takes around four weeks to make one, giving them a personal touch, guarantying quality and reflecting status that comes with carrying an exotic leather handbag.
If one loves their bag and want to keep it, Tamarry Handbags also offer bespoke made crocodile and ostrich leather handbags to buy with delivery in around 12 weeks' time. The handbags are fully customisable with a wide range of options available for selection such as the colour, style, exotic leather type, lining and finish to match the customers' personality.
The hire a bag service has come in handy in these difficult financial times by helping women save cash without compromising their style. The sky is the limit; no need to admire the rich and famous on glossy magazines wearing exotics with no hope of ever wearing one, middle class women can now live their dream lifestyle they deserve today without breaking the bank by renting from Tamarry Handbags.

Editors notes:
Tamarry Handbags is a new online, affordable luxury exotic leather handbag boutique formed in 2012 by husband and wife team Blessing and Farisai Dumbura. They are based in London and specialise in handmade bespoke crocodile and ostrich leather handbags for sale and for hire.
For further information contact
Farisai Dumbura (00447809232546)
http://www.tamarryhandbags.com
sales(at)tamarryhandbags(dot)com
Like us on Facebook@TamarryHandbags;
Follow us on Twitter: @TamarryHandbags