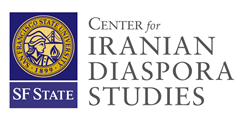 A global exploration of identity, culture, and the experiences of Iranian-hyphenated communities.
SAN FRANCISCO (PRWEB) February 19, 2019
While the 40th anniversary of the 1979 Iranian Revolution is upon us and news headlines will certainly accentuate the divisions between Iran and the United States, the historic animosity between these countries is only a small part of the story. Academics, researchers, artists, and filmmakers from seven countries, and over 44 universities will gather at San Francisco State University in March for "Forty Years & More: International Conference on Iranian Diaspora Studies" to share stories and new research about the many Iranians who now live, work and contribute to nations, cultures, communities that make up a diverse and transnational Iranian diaspora.
Although no exact figures have been calculated, estimates range between 6-8 million Iranians have left Iran since the revolution and far more have migrated as a result of economic and political crises over the past four decades. The majority of those Iranians live in a handful of countries in the West-primarily the United States and Canada, but also in countries in Western Europe such as Sweden, Germany, France and the UK and scattered throughout Asia and Australia. Today, Iranian Americans, and other hyphenated Iranians of a second and third generation are articulating their identities, cultures, and experiences and have gained recognition in a new field of Iranian Diaspora Studies. Hyphenated Iranians, however, are also challenged by renewed hostilities between the West and Iran, and a rising tide of anti-immigrant and anti-Muslim sentiment around the globe.
"Forty Years & More" to be held at San Francisco State University on March 29-30, will feature presentations and conversations about what those forty years have meant for Iranians who now reside outside the boundaries of Iran. The Center is also co-sponsoring/sponsoring two exhibitions of Iranian Diaspora Art in San Francisco including at the San Francisco Arts Commission Gallery ("Part and Parcel") and at the Minnesota Street Project ("Once at Present").
The Center for Iranian Diaspora Studies was established in 2016 with an endowed gift from Bay Area philanthropist Neda Nobari, herself an Iranian immigrant who came to Marin County exactly forty years ago to start high school and who later graduated from SF State University. "To see this conference take shape, to see what a diverse set of speakers and scholars have to say about the experiences of Iranians around the globe, couldn't make me more pleased," says Nobari. "We are so much more than the last forty years of negative news headlines!"
"The amazing scholarship and research of those working in this field is beyond a single country, a single identity," says, Dr. Persis Karim, the Center for Iranian Diaspora Studies inaugural director." This conference is an occasion to share our triumphs, struggles, and our human story with so many." For more information about the conference and art exhibitions go to: cids.sfsu.edu/conference or call Kathy Bruin, Program Assistant for the Center at (415) 338-1500 or email: iraniandiasporastudies@sfsu.edu.