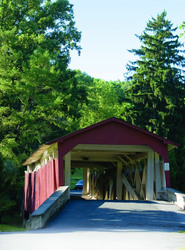 Lehigh Valley's Covered Bridge Tour is an opportunity to journey back in time to a quieter, more idyllic way of life and the guide is a perfect tool to help discover each historical bridge's unique story
Lehigh Valley, PA (Vocus) June 16, 2010
Lehigh Valley is home to many historical landmarks, but none are as colorful and prominent as the seven covered bridges detailed in the "Covered Bridges of Lehigh Valley" guide. The complimentary foldout brochure is a self-guided tour of all seven covered bridges located in Lehigh Valley and can be requested by calling 1-800-747-0561 or visiting DiscoverLehighValley.com.
"The covered bridge represents an iconic part of our past that can never be replaced," said Michael Stershic, president, Discover Lehigh Valley. "Lehigh Valley's Covered Bridge Tour is an opportunity to journey back in time to a quieter, more idyllic way of life and the guide is a perfect tool to help discover each historical bridge's unique story."
In addition to providing the history of all seven covered bridges in Lehigh Valley, the brochure offers a map to help plan self-guided tours of each and every covered bridge in the region.
The seven historical bridges detailed in the Covered Bridges of Lehigh Valley guide are only one aspect of what the area has to offer. Within a compact radius, wildlife sanctuaries, historical sites, specialty shops, factory tours, unique museums, exhibits, professional sports, historic celebrations and re-enactments and a casino can all be discovered in Lehigh Valley.
The Lehigh Valley region of eastern Pennsylvania is located approximately one hour north of Philadelphia and less than two hours west of New York City. It is home to the three cities of Allentown, Bethlehem and Easton.
Created in 1984, Discover Lehigh Valley is the primary engine promoting regional tourism, an industry that generates $1.2 billion in annual revenue and accounts for more than 26,000 jobs in Lehigh Valley.
About Discover Lehigh Valley
Discover Lehigh Valley is the designated tourist promotion agency of Lehigh and Northampton counties. Its mission is to promote and develop Lehigh Valley as a leisure and business travel destination. For more information on Discover Lehigh Valley and its activities or to request a Lehigh Valley Map & Guide, call (800) 747-0561, or visit the official tourism website of Lehigh Valley at http://www.DiscoverLehighValley.com.
# # #