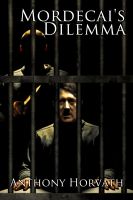 Holmen, WI (PRWEB) March 07, 2013
Noted Bard and Book Publishing author, Anthony Horvath, has released a new work that looks at two outcomes of what might have been if Hitler had been killed before he was allowed to unleash his crimes against humanity versus what was allowed to happen. In "Mordecai's Dilemma", Mordecai is presented with a unique opportunity: the chance to kill Hitler, before he does his worst. A vision from God compels him to take action, but a second vision gives him pause. What will Mordecai do?
Looking back, many people might say that if they had a chance to kill Hitler, they would do so. Hindsight is 20/20, as they say. Mordecai is one of the few allowed to see not only what will happen if Hitler is allowed to live, but also what will happen if Mordecai kills him.
Few can imagine worse than what the Nazis did to humanity, but Mordecai didn't have to imagine it... he saw it with his own eyes, as one possible future.
Horvath's "Mordecai's Dilemma" is available for download on Smashwords and also on Amazon.com for the Kindle.