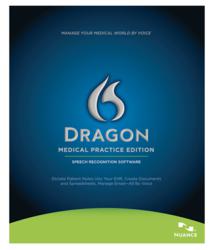 HIT Speech has provided our pulmonary and infectious diseases divisions with exceptional service for our Dragon program
Alberta, Canada (PRWEB) September 21, 2012
What can the typical physician do with more hours in the day? They could spend more time with patients or perhaps accommodate one or two additional patients with that extra time. To even make it possible, increased productivity with products like the latest Nuance Healthcare Dragon Medical Practice Edition software needs to be part of the scenario, according to the experts at HIT Speech Consultants.
An Alberta, Canada-based firm, HIT Speech Consultants provides speech recognition technology, training and support to enhance medical professionals' productivity. For the last four years the team at HIT Speech Consultants has been growing through its reputable service to clients like the Department of Medicine at the University of Alberta.
"HIT Speech has provided our pulmonary and infectious diseases divisions with exceptional service for our Dragon program," shared Zuxana Turakova-Baran divisional administrator of the Division of Infectrious Diseases and Pulmonary Medicine at the University of Alberta.
With the rush towards computerized patient records, HIT Speech Consultants focuses on assisting physician practices not only in their transition to Electronic Health Records (EHRs), but also in providing solutions for making their workday easier. HIT Speech's latest announcement is that they now offer Dragon Medical Practice Edition, the most advanced speech recognition software of its kind. Dragon Medical Practice Edition is considered the most efficient solution available to help clinicians document care and accelerate adoption of their chosen EHR, for practices with up to 24 physicians.
"Making professionals more productive is the basis for all of the voice recognition implementation, training and support that we offer," says Kim Paniccia, President and CEO of HIT Speech Consultants. "Dragon Medical Practice Edition can practically narrow a patient visit down to one or two spoken phrases because much of the medical language and reference information is already in the system. It saves the doctor from having to type in everything."
Paniccia points out as an example that if a physician verbalizes, 'women's general exam,' each and every routine diagnostic that is part of that general exam will appear in the report generated with the Dragon Medical Practice Edition program, which can then be prepared specific to that patient.
Productivity increases with the use of Dragon Medical Practice Edition because it allows physicians to work about three times faster, using their voice, instead of typing. With the software's accuracy close to 99 percent, there are minimal interruptions to fix errors in the data that is dictated. Implementing Dragon Medical Practice Edition can also reduce, if not eliminate, transcription costs in a medical practice. Medical professionals will also spend less time doing paperwork by hand using Dragon Medical Practice Edition while having the general efficiencies of a program that facilitates the use of EHR. The medical speech recognition software also features a comprehensive vocabulary that now covers nearly 60 medical specialties and subspecialties. To access further benefits Dragon Medical Practice Edition can offer to medical practices visit http://hitspeech.com/products/dragon-medical-practice-edition/.
For physicians in Canada who are making the transition to EHR, or who have already adopted it and need to upgrade their software, Dragon Medical Practice Edition is recommended by HIT Speech Consultants as an ideal system to integrate with. It is compatible with practically any EHR system currently available. As the numbers indicate, more and more physicians in Canada are migrating to full EHR use in their practices. In a span of five years, the number of physicians in Canada who use EHR exclusively increased from seven to 16 percent, according to the 2010 National Physician Survey.
Paniccia has a standard process for introducing medical practices to Dragon Medical Practice Edition. First, she reviews the software with the physicians and staff to ensure they understand the benefits, and how it can be individualized for each physician within a practice. Then, she provides a hands-on demonstration so the physicians experience how voice recognition works with Dragon Medical Practice Edition first hand. She follows that with an assessment of their computer system specifications to make sure the software will work effectively with their system. Then she installs the software, and trains the appropriate users.
HIT Speech offers other Dragon software for a variety of professionals including Dragon Naturally Speaking. Additionally digital dictation devices ideal for speech recognition are offered such as Olympus voice dictation and microphones, including Phillips SpeechMike and Nuance PowerMic. These devices complemented with Dragon Medical Practice Edition present as a powerful solution for medical practices.
About Hit Speech Consultants
Hit Speech Consultants have four years of experience with Dragon NaturallySpeaking Medical, Professional and Premium editions, as well as Olympus and Philips digital dictation solutions. Their main goal is to increase professionals' productivity.
As a Nuance certified reseller and trainer, HIT Speech can install, customize, implement, train and support Dragon NaturallySpeaking software, and provide solutions with all associated microphones and digital dictations systems.
More information regarding HIT Speech Consultants is accessible by visiting http://hitspeech.com/, or call 780-868-6487.
# # #